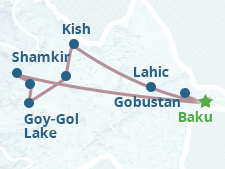 Find out why Azerbaijan is labeled as 'land of fire' experiencing yourself the heat of the burning mountain, and feel the magical warmth of local hospitality. Our scheduled tour is a real journey through time and history of Azerbaijan, filled with magnificent stories, ancient mosques and madrassas, noble palaces and fortresses. Take small group Azerbaijan tour 2017 to see formerly rich Middle Ages settlement and German-style village. Allow yourself to be carried away by this country's amazing culture, arts and traditions. Add the fact that all of these are in the wonderful settings of grand mountains, river canyons, sea shores and green valleys – and you will have an ideal option for travel to discover yet another part of the World.
Guaranteed departure!
Group size: max 14 persons
Single supplement: $190
Tour itinerary:
Day 1 (Friday): Baku – arrival
Arrival in Baku. You will be met by our driver and transferred to the hotel for overnight.
Day 2 (Saturday): Baku
At noon, start sightseeing tour in Baku. Visit Memory Alley – "Shehidler Khiyabany"; it opens up a great panoramic view of Baku city. Continue exploring architecture of the 14-20th centuriesin the Nizami Street, Fountain Square, Nizami Ganjavi monument, Rasul-Zade Street. Pay a visit to Azerbaijan History National Museum and move to the old part of the city – Icheri Sheher. Visit Maiden Tower, Shirvan Shahs' Palace, Caravanserai, and market square with numerous art studios and souvenirs stalls. An excellent round-up to the city tour will be a visit to the richest bank of Azeri carpets – National Carpets Museum. Overnight at the hotel.
Day 3 (Sunday): Baku – Absheron Peninsula – Gobustan – Baku
Today you will explore Greater Baku and Absheron peninsula. Today's program starts with Gobustan National Park. Pay a visit to the Petroglyphs Museum and explore petroglyphs dating back to 10,000 BC. Continue to mud volcanoes in Gobustan Reserve. Gobustan is home to almost half of the world's mud volcanoes. Later drive to Ateshgah – temple of fire worshippers located in Surakhany village. Zoroastrians from India travelled thousands of kilometers to Ateshgah to worship fire coming out of the earth. Drive to Yanardag Mountain with natural gas burning for several thousands of years.
Return to Baku. Overnight at the hotel.
Day 4 (Monday): Baku – Lahij – Kish – Sheki
In the morning, depart Baku and drive to Sheki town. On the way, visit Diri Baba mausoleum in Maraza village. Continue to Shamakha, where you will visit historical Juma Mosque, Yeddi Gumbez Mausoleum, and the Shirvan Shah's family grave yard. Drive through Girdimanchay River's canyon to visit Lahij, the 5th century place rich in its historic and architectural values. Lahij is an ancient village with charming eye-catching sidewalks inlaid by stones. It is famous for medieval water supply and sewage systems as well as traditional workshops making jewelry, copperware, carpets, pottery, daggers, and iron tools.
Continue driving to Sheki. On the way, visit the first Albanian church in Caucasus in the village Kish dating back to the 1st century AD. Arrival in Sheki for overnight.
Day 5 (Tuesday): Sheki
In the morning, have sightseeing tour in Sheki. Visit Sheki medieval fortress, Sheki Khans Palace, local History Museum, handicrafts workshop, and mosque-madrassah.
Have free afternoon at your leisure. Visit local bazaar and recently launched House of Sheki Khan. Overnight at the hotel.
Day 6 (Wednesday): Sheki – Mingyachevir – Goy-Gol lake – Ganja
In the morning, depart Sheki and drive to Ganja, the second biggest city in Azerbaijan. On the way, visit an industrial city of Mingyachevir located on the bank of Kura, the longest river in Caucasus.
In Ganja Start sightseeing tour includes visits to the Mosque of Shah Abbas, medieval Ganja caravansaray, the Museum of Miniature, and unique Bottle house decorated with thousands of bottles. Pay a visit to the Mausoleum of famous Azerbaijan poet Nizami Gyanjavi and continue to a local bazaar. Drive out of the city to a small town of Goygol to visit village Helenendorf that was settled in the winter of 1818–1819 by 194 Swabian German families. German architecture of local buildings will surprise you. Overnight at the hotel in Ganja.
Day 7 (Thursday): Ganja – Shamkir – Baku
After breakfast we will drive back to Baku. Stop on the way at Shamkir town, a prosperous and rich Middle Ages settlement on the bank of Big Shamkir River. Arrive in Baku in the afternoon. Check-in to the hotel. Free time in the city. Overnight at the hotel.
Day 8 (Friday): Baku – departure
Check-out from the hotel till noon. Free time till transfer to Baku International Airport. End of the tour.
Accommodation:
| | |
| --- | --- |
| City | Hotels |
| Baku - 4 nights | New Baku, Atropat |
| Sheki - 2 nights | Issam, or similar |
| Ganja - 1 night | Ganja hotel |
Price includes:
All transfers;
Accommodation based on double/twin room sharing, breakfasts included;
Sightseeing tour program with local English-speaking guide;
Entrance tickets to sights as per itinerary.
Price does not include:
Full board (lunches and dinners);
Hotel charges for additional services;
Personal travel insurance;
Azerbaijan tourist e-visa.