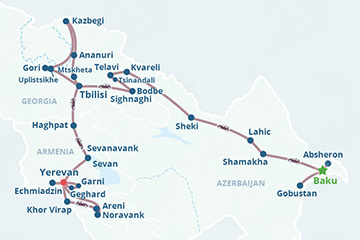 Take a fascinating 13-day tour around Caucasus countries of Georgia, Armenia and Azerbaijan. Caucasus attracts with hospitable and kind people, dusted bottles of wine in dark cellars, long beautiful toasts, breathtaking mountain views, medieval architectural monuments and of course delicious cuisine - starting with shashlik up to khinkali.
Tour itinerary:
Day 1: Baku
Arrival in Baku early in the morning or on the previous day.
You will be met by our driver and transferred to the hotel for overnight.
At noon, start sightseeing tour in Baku. Visit Shehidler Khiyabany Memory Alley, from where you can have a great panoramic view of Baku city. Continue touring new Baku and exploring architecture of the 19-20th centuries: Nizami Street, Fountain Square, Nizami Ganjavi monument, Rasul-Zade Street. Pay a visit to Azerbaijan History National Museum and move to the old part of the city – Icheri Sheher. Visit Maiden Tower, Shirvan Shahs' Palace, Caravanserai, and market square with numerous art studios and souvenir stalls. An excellent round-up to the city tour will be visit to the richest bank of Azeri carpets – National Carpets Museum. Overnight at the hotel.
Day 2: Baku – Absheron Peninsula – Gobustan – Baku
Today you will visit the area of the Greater Baku and Absheron peninsula. Start with Gobustan National Park. Pay a visit to the Petroglyphs Museum and explore petroglyphs dating back to 10,000 BC. Continue to mud volcanoes in Gobustan Reserve. Gobustan is home to almost half of world's mud volcanoes. Later drive to Ateshgah – temple of fire worshippers located in Surakhany village. Zoroastrians from India travelled thousands of kilometers to Ateshgah to worship fire coming out of the earth. Drive to Yanardag Mountain with natural gas burning for several thousands of years.
Return to Baku. Overnight at hotel.
Day 3: Baku – Lahij – Kish – Sheki
In the morning, depart Baku and drive to Sheki town. On the way, visit Diri Baba mausoleum in Maraza village. Continue to Shamakha and have a sightseeing of historical Juma Mosque, Yeddi Gumbez Mausoleum, and the Shirvan Shah's family grave yard. Drive through Girdimanchay River's canyon to visit Lahij, the 5th century place rich in its historic and architectural values. Lahij is an ancient village with charming eye-catching sidewalks inlaid by stones. It is famous for medieval water supply and sewage systems as well as traditional workshops making jewelry, copperware, carpets, pottery, daggers, and iron tools.
Continue driving to Sheki. On the way, visit the first Albanian church in Caucasus in the village Kish dating back to the 1st century AD. Arrival in Sheki for overnight.
Day 4: Sheki – Georgian border – Kvareli – Gremi – Telavi
Check out from hotel and start sightseeing tour in Sheki. Visit Sheki medieval fortress, Sheki Khans Palace, local History Museum, handicrafts workshop, mosque-madrassah, and local bazaar. Depart Sheki and head towards border with Georgia (115 km, ~2 h.). Cross the border, meet your Georgian guide and start exploring the Eastern part of Georgia famous for its viticulture and winemaking traditions.
We will pass through the beautiful landscapes of vineyards and wine-producing villages. First stop will be at unique wine cellar "Khareba" located in the tunnel carved out of the rock. Originally built for military purposes, today the tunnel is used to store Kakheti's finest wines. Wine tour and wine tasting. Continue to Gremi architectural complex, 16th century royal residence and the capital of Kakheti Kingdom. Then reach Telavi, administrative center of Kakheti region. Have a short drive around the town. Overnight at the hotel.
Day 5: Telavi – Tsinandali – Bodbe – Sighnaghi – Tbilisi
After breakfast, continue exploring Kakheti by visiting Tsinandali, residence of dukes of Georgia, with beautiful English garden, museum, and wine cellar which belonged to prince Chavchavadze, public figure and poet of 19th century. Continue to Bodbe Convent and Sighnaghi Royal Town, one of the crossroads of the Great Silk Road surrounded by defensive walls with 23 towers. In the afternoon, head to Tbilisi for overnight.
Day 6: Tbilisi
In the morning, have sightseeing tour in Tbilisi. Start at Holy Trinity cathedral, one of the largest orthodox cathedrals in the world. Continue to Metekhi church and monument to Vakhtang Gorgasali, the legendary founder of Tbilisi. Take cable car to Narikala Fortress to enjoy breathtaking panoramic view of the city. Walk down to the district of Sulphur bath houses passing by the only mosque in Tbilisi. Stroll through the Sharden area full of narrow streets with cozy cafés, wine tasting bars, souvenir shops, and breathe in the living past. Visit Sioni Cathedral, Anchiskhati Basilica, and the clock tower of famous Rezo Gabriadze Theatre. Cross the Bridge of Peace to Rike Park and head to Open Air Museum of Ethnography, a miniature model of Georgia. In the evening, visit a local restaurant to taste dishes of traditional Georgian cuisine and enjoy folklore show. Overnight in Tbilisi.
Day 7: Tbilisi – Mtskheta – Gori – Uplistsikhe – Tbilisi
After breakfast, drive to Mtskheta, one of the oldest towns and the cultural and religious centre of Georgia. Mtskheta was the capital of the Eastern Georgian Kingdom of Iberia from the third century BC. Visit Jvari Church, a true architectural masterpiece of the early Medieval Period overlooking the confluence of Aragvi and Mtkvari rivers from the top of the hill, and Svetitskhoveli Cathedral which may be translated as "The Life-giving pillar". Svetitskhoveli is the main cathedral of Mtskheta and a sacred place where the robe of Christ is being kept. Continue to Gori and visit Stalin Museum. Explore cave town Uplistsikhe dating back to Hellenistic Period and notable for unique combination of various styles of rock-cut cultures and the co-existence of pagan and Christian architecture. Drive back to Tbilisi for overnight.
Day 8: Tbilisi – Armenian border – Haghpat – Lake Sevan – Sevanavank – Yerevan
At 09:00, our driver will meet you at your hotel in Tbilisi and transfer to "Sadakhlo-Bagratashen" Georgian-Armenian border point. Cross the border, meet your Armenian guide and driver and start the journey to the land of ancient traditions and oldest temples.
Drive to Lori region and visit Haghpat monastery, UNESCO World Heritage Site. Stunning example of Armenian traditional architecture erected in 10-13th centuries stands on a hillside beautifully overlooking Debed River. Drive to Lake Sevan, "The Jewel of Armenia" and one of the largest high-mountainous fresh water lakes in the world. The coastline of Lake Sevan is rich with thick woods, white bare steep rocks, mountain steppes and Alpine meadows. Stop at Sevanavank to visit the remnants of the monastery that include two temples – Surb Arakelots and Surb Astvatsatsin standing among numerous khachkars. The buildings were constructed from black tuff which probably gave the monastery its name Sevanavank – "the Black Monastery". The view from there is simply magnificent: the mountains surround lake from all sides and snow tops are seen almost on the entire perimeter and disappear behind the horizon. Reach the capital of Armenia for overnight at the hotel.
Day 9: Yerevan
One of the oldest cities of the world, Yerevan is famous as a pink city and calls visitors with its humble and at the same time splendid landscapes. Start city tour visiting Cascade Monument which was the main symbol of the cities 2780th anniversary with the equivalent number of stairs. Mega scale staircase is 500 meters high and 50 meters wide. A panoramic view from the monument opens up breathtaking city view with Opera House, Mount Ararat, Swan Lake, Republic Square, and Abovyan Avenue, which you will also walk by during the tour. If it is a weekend, visit Vernissage, the biggest souvenir market in Yerevan. Continue to the Armenian Genocide memorial complex on the hill of Tsitsernakaberd. An excellent round-up of the tour will be a visit to the Megeryan carpet factory where you can observe a process of creating famous Armenian rugs. You will see carpets from different regions of Armenia and find out about hidden meanings of elements used in their design. In the evening, enjoy dinner and traditional folklore show. Overnight at the hotel.
Day 10: Yerevan – Garni – Geghard – Etchmiadzin – Yerevan
Depart Yerevan and drive to Garni, one of the major villages in Armenia famous for its fortress. The fortress is the only pagan sacred place from the 1st century that survived aggressive introduction of Christianity in the 4th century. Next stop is at the monastery complex Geghard ("spear"). A beautiful landscape of Geghard is framed with towering cliffs. Decorative art cut into rocks reflect and explain Medieval Ages development throughout the region. The complex was introduced to the history in the 4th century as a sacred spring inside a cave. Continue to the Holy See of Armenia, Etchmiadzin. Visit Etchmiadzin Cathedral* which is the residence of the head of Armenian Apostolic Church the Catholicos of All Armenians. Return to Yerevan for hotel.
* The site is presently under renovation works.
Day 11: Yerevan – Khor Virap – Areni – Tatev – Goris
After breakfast at 09:00, head to Khor Virap monastery ("deep pit"). According to the legend, St. Gregory the Illuminator, the Baptist of Armenia, had been kept here in the basement during 13 years for the disseminating of Christianity until tsar Tradt decided to adopt new religion. Monastery location allows you to enjoy the best views of the Mt. Ararat.
Continue to Areni, a city known for producing famous Armenian wine from pomegranate and apricot. Have a wine degustation in a local winery.
Drive to Tatev Monastery (9-13 cent.). Approaching the jewel of medieval Armenian architecture on the longest aerial tramway in the world you will see the monastery, the powerful impregnable stronghold towering on a rock. Such a remote position of it was strategically favorable as the monastery was simultaneously religious and political centre of the region. Standing on the edge of the rock, the monastery takes your breath away: somewhere down below the river flows in the valley and crowded velvet green hills stand in silence…
Arrival in Goris at 18:00, accommodation at hotel.
Day 12: Goris – Noravank – Yerevan
After breakfast at 09:00 check out from the hotel. On the way to Yerevan visiting famous Complex of Noravank, situated on a ledge of a deep winding gorge of a tributary of the Arpa River near the village of Amaghu, Yeghegnadzor District. Noravank ensemble stands amidst the bizarre-shaped precipitous red cliffs. Built in place of an ancient cloister, it grew in the reign of Princes Orbelian of Syunik. In the 13th-14th centuries it became a residence of Syunik's bishops. Consequently, a major religious and later cultural center of Armenia was closely connected with many educational institutes, primarily with Gladzor's university and library.
Arrive in Yerevan, check-in to hotel. Free time. Overnight at hotel.
Day 13: Yerevan – departure
Check-out from hotel till noon. Free time till transfer to Yerevan International Airport. End of the tour.
Prices:
Number of travellers

Option 1, COMFORT
price per person, USD

Option 2, ECONOMY
price per person, USD

1
5380
4480
2
3150
2560
3
2740
2190
4
2390
1860
5
2250
1690
6
2130
1580
7
2030
1490
8
1990
1450
9
1890
1370
10
1870
1320
15
1680
1140
Single supplement
880
420
Half board supplement
240
240
Full board supplement
495
495
Accommodation:
Comfort Option


Economy Option


Baku - 3 nights

Park Inn, Intourist

Sapphire, Shah Palace, Central Park

Sheki - 1 night

Sheki Saray, Sheki Palace

Issam

Telavi - 1 night

Chateau Mere, Schuchmann Chateau

Old Telavi, Rcheuli Marani, Alazani Valley

Tbilisi - 3 nights

Tiflis Palace, Riverside, Ambasadori

Kopala, Tiflis, KMM

Yerevan - 4 nights

Royal Tulip Grand Hotel Yerevan, DoubleTree by Hilton Yerevan, Opera Suite

Hrazdan, Silachi, Cascade

Goris - 1 night

Mirhav

Mirhav
Price includes:
All transfers;
Accommodation based on double/twin room sharing, breakfasts included;
Sightseeing tour program in each city with local guides;
Entrance tickets to sights as per itinerary;
Azerbaijan tourist e-visa;
Wine tasting in Kakheti region, Georgia.
Price does not include:
Full board (lunches and dinners);
Hotel charges for additional services;
Visa support letter and consular fees for visas to Georgia and Armenia;
Personal travel insurance.