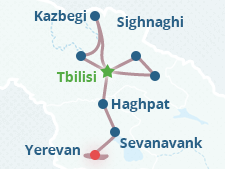 Extensively diverse tour to the most historical and beautiful spots of hospitable Georgia and mesmerizing Armenia will tell you millennia long history in 8 days. You will enjoy the best-known Georgian artworks in Tbilisi; take a sip of famous Georgian wine in Kakheti, the cradle of Georgian winemaking; breathe in enchantment of gorgeous temples and cathedrals in every city you visit. Your once-in-a-lifetime journey will be spiced up with an unforgettable and unrepeatable national food.
Tour Summary:
Day 1: Tbilisi
Arrival in Tbilisi. Transfer to the hotel. Check-in at noon.
The first day of your Georgia and Armenia tour starts with a guided sightseeing tour in Tbilisi. Start at Holy Trinity cathedral, one of the largest orthodox cathedrals in the world. Continue to Metekhi church and monument to Vakhtang Gorgasali, the legendary founder of Tbilisi. Take cable car to Narikala Fortress to enjoy breathtaking panoramic view of the city. Walk down to the district of Sulphur bath houses passing by the only mosque in Tbilisi. Stroll through the Sharden area full of narrow streets with cozy cafés, wine tasting bars, souvenir shops, and breathe in the living past. Visit Sioni Cathedral, Anchiskhati Basilica, and the clock tower of famous Rezo Gabriadze Theatre. Cross the Bridge of Peace to Rike Park and head to Open Air Museum of Ethnography, a miniature model of Georgia. In the evening enjoy dinner at traditional Georgian restaurant.
Day 2: Tbilisi – Mtskheta – Ananuri – Kazbegi
After breakfast, drive to Mtskheta, one of the oldest towns and the cultural and religious centre of Georgia. Mtskheta was the capital of the Eastern Georgian Kingdom of Iberia from the third century BC. Visit Jvari Church, an architectural masterpiece of the early Medieval Period overlooking the confluence of Aragvi and Mtkvari rivers from the top of the hill. You will also visit Svetitskhoveli , the main cathedral of Mtskheta and a sacred place where the robe of Christ is being kept.
Continue to Ananuri architectural complex, a former residence of Argveti Dukes. 16-17th centuries complex featuring churches and towers beautifully overlooks Jinvali reservoir. Continue driving on Georgian Military Highway passing through the highest point of it at 2379 m above sea level. En-route, make a stop at the mineral water spring flowing down from a hilltop. Arrive at Kazbegi, a small town with the views of Mount Kazbek (or Mkinvari) 5033 m, the seventh highest peak in the Caucasus Mountains. Visit Gergeti Holy Trinity Church located on altitude of 2170 m. Overnight at the hotel.
Day 3: Kazbegi – Gori – Uplistsikhe – Tbilisi
After breakfast drive to Gori and visit Stalin Museum. The museum includes more than 60,000 artifacts, the tiny house where Stalin was born, and a bulletproof train Stalin used to travel to Yalta and Potsdam. Explore cave town Uplistsikhe dating back to Hellenistic Period and notable for unique combination of various styles of rock-cut cultures and the co-existence of pagan and Christian architecture. Return to Tbilisi for overnight.
Day 4: Tbilisi – Sighnaghi – Bodbe – Tsinandali – Telavi – Tbilisi
After breakfast depart towards the Kakheti region of Georgia, the cradle of Georgian wine.
Our first stop will be in Bodbe convent, which according to the legend is a burial place of St. Nino, who converted Georgia to Christianity in the 4th century. According to Tsar Alexader III of Russia decree, since 1889 Bodbe complex functions as a nunnery. Continue Sighnaghi, the city of love and the Royal Town, one of the crossroads of the Great Silk Road surrounded by defensive walls with 23 towers. Drive to Tsinandali, the residence of dukes of Georgia with beautiful English garden, a museum, and the wine cellar which belonged to prince Chavchavadze, 19th century public figure and poet.
Reach Telavi, the administrative and historic center of the region. Have a short walk through charming streets of old Telavi and have a photo stop at the monument to Erekli II.
Depart to Tbilisi by beautiful road through Gombori pass. Overnight at the hotel.
Day 5: Tbilisi – Armenian border – Haghpat – Lake Sevan – Sevanavank – Yerevan (Georgia – Armenia)
At 09:00, our driver will meet you at your hotel in Tbilisi and transfer to "Sadakhlo-Bagratashen" Georgian-Armenian border point. Cross the border, meet your Armenian guide and driver and start the journey to the land of ancient traditions and the oldest temples.
Drive to Lori region and visit UNESCO World Heritage Site Haghpat monastery. Stunning example of Armenian traditional architecture was erected in 10-13th centuries. Standing on a hillside, Haghpat beautifully overlooks Debed River. Location of monastery was chosen to protect peace and seclusion of its monks.
Drive through Dilijan to Lake Sevan, "The Jewel of Armenia" and one of the largest high-mountainous fresh water lakes in the world. The coastline of Lake Sevan is rich with thick woods, white bare steep rocks, mountain steppes and Alpine meadows. Stop at Sevanavank to visit the remnants of the monastery that include two temples – Surb Arakelots and Surb Astvatsatsin standing among numerous khachkars, carved cross stones. The buildings were constructed from black tuff which probably gave the monastery its name Sevanavank – "the Black Monastery". The view from there is simply magnificent: the mountains surround lake from all sides and snow tops are seen almost on the entire perimeter and disappear behind horizon. Continue to Yerevan for overnight.
Day 6: Yerevan – city tour
One of the oldest cities of the world, Yerevan is famous as a pink city and calls visitors with its humble and at the same time splendid landscapes. Start city tour visiting Cascade Monument which was the main symbol of the cities 2780th anniversary with the equivalent number of stairs. Mega scale staircase is 500 meters high and 50 meters wide. A panoramic view from the monument opens up breathtaking city view with Opera House, Mount Ararat, Swan Lake, Republic Square, and Abovyan Avenue, which you will also walk by during the tour. If it is a weekend, visit Vernisage, the biggest souvenir market in Yerevan. Continue to the Armenian Genocide memorial complex on the hill of Tsitsernakaberd. An excellent round-up of the tour will be a visit to the Megeryan carpet factory where you can observe a process of creating famous Armenian rugs. You will see carpets from different regions of Armenia and find out about hidden meanings of elements used in their design. In the evening, enjoy dinner and traditional folklore show. Overnight at the hotel.
Day 7: Yerevan – Garni – Geghard – Etchmiadzin – Yerevan
Depart Yerevan and drive to Garni, one of the major villages in Armenia famous for its fortress. The fortress is the only pagan sacred place from the 1st century that survived aggressive introduction of Christianity in the 4th century. Next stop is at the monastery complex Geghard (means a spear in Armenian). A beautiful landscape of Geghard is framed with towering cliffs. Decorative art cut into rocks reflect Medieval Ages development in the region. The complex appeared in the 4th century as a sacred spring inside the cave. Continue to the Holy See of Armenia, Etchmiadzin. Visit Etchmiadzin Cathedral which is the residence of the head of Armenian Apostolic Church the Catholicos of All Armenians. Drive back to Yerevan. Overnight at the hotel.
Day 8: Yerevan – departure
Check-out from hotel till noon. Transfer to Yerevan International Airport. End of the tour.
Accommodation:
Royal Tulip Grand Hotel Yerevan, DoubleTree by Hilton Yerevan, Opera Suite
City

OPTION 1
Comfort ****

OPTION 2
Economy ***

Number of nights

Tbilisi

Tiflis Palace, Mercure, Ambasadori, Riverside

Kopal, Tiflis

3

Kazbegi
The Rooms
Alpenhaus, Gogi Aligabeshvili guesthouse
1

Yerevan

Royal Tulip Grand Hotel Yerevan, DoubleTree by Hilton Yerevan, Opera Suite

Silachi, Hrazdan, Cascade

3
Price includes:
All transfers on comfortable vehicle; 4x4 WD to Gergeti Church in Kazbegi;
Accommodation based on double/twin room sharing, breakfasts included;
English speaking guides in each country;
All entrance tickets to sights as per itinerary;
Wine tasting at Tsinandali;
Welcome dinners in Tbilisi and Yerevan;
Mineral water (0,5l per person per day).
Price does not include:
Lunches and dinners;
Hotel charges for additional services;
Personal travel insurance.