Central Asia - General Information
Today Central Asia comprises five independent republics, Kazakhstan, Kyrgyzstan, Uzbekistan, Turkmenistan and Tajikistan. From its beginning in 1917, the Soviet state never included Kazakhstan in Muslim Central Asia, preferring to give it a non-Asian identity by linking it closely to Russia and Siberia. Today, however, the Kazakhs themselves and the world at large believe they are very much part of the region. Central Asia covers an area of 3,994,300 square kilometers which includes some of the most sparsely populated regions in the world. Its population of only 51 million people includes more than 100 different ethnic groups, from Germans and Austrians to Tibetans and Koreans. The largest ethnic group is the Uzbeks. Uzbekistan has a population of more than 30 million, and Uzbeks from substantial minorities in all other four republics. There were some 10.6 million Russians living in Central Asia in 1992, but there has been a large-scale exodus of Russians from Tajikistan and Uzbekistan Because of fears of ethnic violence and Islamic fundamentalism.
Tashkent and Ashgabat, the capitals of Uzbekistan and Turkmenistan, have long urban histories but the other three capital cities, Dushanbe in Tajikistan, Almaty in Kazakhstan and Bishkek in Kyrgyzstan, were created by the Bolsheviks to give a sense of ethnic identity to those nationalities. Uzbekistan contains all the most famous historical cities of Central Asia: Samarkand, Bukhara, Khiva and Kokand. There were the seats of nomadic empires and settled kingdoms in the past, as well as being centers in the development of Islam throughout the region. For centuries the hundreds of madrasahs, or Islamic colleges in Bukhara and Samarkand attracted students from as far away as Marocco and Indonesia. Bukhara is seen by many Muslims as a place of pilgrimage and the most important city in Islam after Mecca, Medina and Jerusalem. Central Asia was also the birthplace of Sufism, the mystical trend in Islam which spread rapidly to Africa and Asia.
Countries of Central Asia
Uzbekistan, Central Asia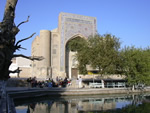 Uzbekistan is located in the very heart of Central Asia: once crossed by caravan routes, including the famous Great Silk Road. Uzbekistan is, first of all, the country of historical and cultural tourism. It is the place of concentration of the precious Eastern Gems such as Samarkand, Bukhara, Khiva,Tashkent and Shakhrisabz with splendid and out and outer monuments of Central Asian medieval architecture.
More on Uzbekistan in Central Asia
Kazakhstan, Central Asia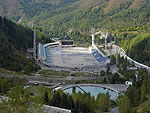 Kazakhstan is the largest and economically developed country in Central Asia. National traditions and culture of the Kazaks can be attributed to the nomadic past of their ancestors, who were roaming by whole tribes from one place to another in horizonless Kazak steppes. An interesting image of modern Kazakhstan is the result of interaction of Russian and Islamic influence, oriental mentality and modern trends of globalization.
More on Kazakhstan in Central Asia
Kyrgyzstan, Central Asia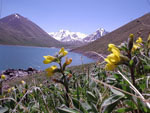 Perhaps none of the countries from the Central Asian region can boast with such abundance of picturesque natural places as Kyrgyzstan. Over three-quarter of its territory is occupied by majestic mountains of Tien-Shan and Pamir Alay. Eye-pleasing succulent green plains, which, for centuries, have been serving as live-stock pastures to local nomads, and offering a tired traveler rest, lakes and crystal clear torrents, charming mysterious gorges and caves, quaintly cut by time and foul weather. Kyrgyzstan is still strong with its national traditions and nomadic customs, which have been formed for centuries.
More on Kyrgyzstan in Central Asia
Tajikistan, Central Asia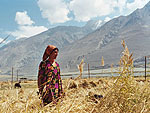 Tajikistan is the only Iranian-speaking state in Central Asia with its unique culture and traditions. This beautiful country with severe climate, situated in picturesque foothills of Pamir is located far from Eurasian transport routes. Modern Tajikistan has been formed under the influence of ancient customs of the Iranians, Persians, Islam, neighboring Uzbekistan and Soviet Russia. The major part of the population occupies the northern even lands of Tajikistan. It is the place where two largest and most developed cities - Dushanbe and Khujand are located.
More on Tajikistan in Central Asia
Turkmenistan, Central Asia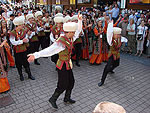 Turkmenistan is the country which inherited unique world-wide famous monuments of great dynasties of the past years. A special pride of the Turkmen is the country's capital – Ashgabat. Unique from architectural point of view, blazing and sparkling day and night it is a symbol of Modern Turkmenistan.
More on Turkmenistan in Central Asia