Gagra, Georgia
The warmest resort in Georgia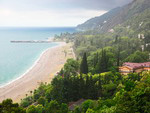 Gagra is the largest city in Abkhazia and a well-known sea resort. It is located in the western part of the republic perched in a cozy sea bay. Its southern part is situated on the coast; the northern is surrounded by the branches of the Gagra ridge. If you climb its top you'll be able to have a look at the amazing landscape – the small Gagra rolling in eternally green subtropics caressed by warm waters of the Black Sea.
Gagra is the warmest city on the Black Sea coast. Its unique nature and climate make it one of the best vacation spots. Average annual temperature there is +15 +17 С. Gagra mineral springs are said to work miracles. The curative air of the resort contributes to Caucasian longevity.
Sunny Gagra is indeed a fantastic place, an enchanted nook where eternal summer reigns. Everywhere you look you will see fabulous landscapes: the boundless smoothness of the sea, the yellow strip of the beach, pointed caps of mountain ridges, thickets of exotic magnolias and cypresses, old buildings of the colonial epoch, picturesque ruins of ancient temples… All these make up the unique riches of Gagra which generally shares them with thousands holiday makers.
Like any other city Gagra has a history. Before the beginning of our era this part of the coast was populated by ancient Greeks who founded Triglif settlement there. Then Nitika, a Roman colony, emerged there followed by Byzantian Trachea. In the Middle Ages the area was occupied by Genoa trading station called Khakara. In the 16 th century Turks, the slave traders for decades, came there. The city's proper development as a major resort began during Russian domination in Abkhazia.
The name Gagra, according to a number of researchers, originated from ancient Abkhaz family - Gagaa - which used to live there. In the early 20 th century the decision was adopted to build a resort in Gagra which would be good enough for the Russian Emperor. This idea belonged to Prince of Oldenburg related to Nicolas II, the Russian Tsar. So in 1903the first major Gagra resort – the climatic station - an exotic fashionable resort for aristocracy was opened. Country houses, private residences, gambling houses, hotels and Gagripsh Restaurant, the magnificent Seaside Park appeared along the seaside. Ever since Gagrs has been famous for its spirit of holiday city, the city of entertainments and secular receptions for elite which further extended onto Soviet time when Gagra became preferred vacation spot for the Communist party high ranking officials who actively built dachas and mansions there.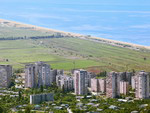 Since then Gagra has not changed a lot. It still stretches along the sea coast for 20 km. The beautiful embankment runs along the Black Sea coastline. The city streets made in terraces over the sea. Little cozy cafes and souvenir shops are scattered everywhere.
The modern city is divided into Old and New Gagras. New Gagra is a congestion of residential quarters, shops and cafes. Old Gagra is the centre of historical monuments.
Gagra Landmarks
Vicinities of Gagra