State System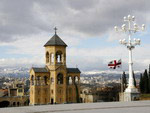 The leader of the Republic (since 2004 - Mikhail Saakashvili) and the executive branch is the President. He/she can be elected for no more than two terms successively. The Ministers are appointed by the President with the approval of the Parliament.

The Parliament is the higher legislature of Georgia. According to the constitution of 1995 the highest legislature – the Parliament consists of two chambers: the Council of the Republic and the Senate. The Senate structure includes deputies from territorial units of Georgia and five senators appointed by the President.
Political Parties
In Georgia the multi-party system is adopted. The basic parties of the country are:
- the Democratic Party "National movement" - the ruling political organization created in 2004. Its leader is the President - Mikhail Saakashvili.
- Right wing party "New Right-Wingers"
- conservative organization "Industry will Save Georgia "
- social democratic " Labor Party of Georgia»
- freedom movement "Tavisupleba"
- right-centrist "National-Democratic Party"
- monarchist party "the Union of Georgian Traditionalists"
- left-centrist alliance "Unity"
Armed Forces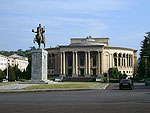 The armed forces of Georgia consist of the army (Land Forces, Navy – the coast guard, Air Forces) and the national guards under the jurisdiction of the Ministry of Defense; frontier troops (under the State Department of Borders Protection); the internal security units, independent brigade and special mission troopers (the Ministry of Home Affairs); state security special service (under the President administration). The armed forces number and defense budget is approved by the Parliament of Georgia, the structure of the armed forces – by the President who is the Armed Forces Commander-in-Chief.
Foreign Policy
Georgia has been a full member of the United Nations since 1992, OSCE, UNESCO, IMF, IBRD, the Black Sea Economic Cooperation, The North Atlantic Council on Cooperation, the International Monetary Fund and has the status of the invited state in the Council of Europe; it is also an active participant in the NATO program "Partnership for Peace". Since 1999 Georgia has been a member of the WTO.