Sukhumi Fortress
This fortress gave birth to the city of Sukhumi. In the early AD Romans who had constructed it gave it the name Sebastopolis ("Sacred City"), but Turks reinforced it and renamed Sukhum-Kale in the 17th century. Today only the ruins have left from the fortress but they are still the integral part of the city landscape, the witnesses of centuries-old and heroic history of the city. Read more...
Botanical Garden
The natural ornament of the capital of Abkhazia is located directly downtown. It is the former Botanical garden of the Academy of Sciences of Georgian Soviet Socialist Republic which used to be the one of the best among similar arboretums in terms of collection. Today it is just the most unique place of interest of entire Abkhazia. Read more...
Arboretum
Surprisingly mild, warm and humid climate of Abkhazia is favorable for growing unique subtropical samples of flora there. The collection of those has been gathered in the Subtropical Arboretum of Sukhumi. It includes the rare representatives of Colchis flora as well as shrubs from all continents of the world. Read more...
Monkey Farm
The farm is located on picturesque slopes of Mount Trapeze on the territory of the former summer residence Ostroumov, the famous Rusian scientist. It was founded in 1927. Today it is The Research Institute of Experimental Pathology and Therapy of Abkhzaian Academy of Sciences. Read more...
Makhajir Embankment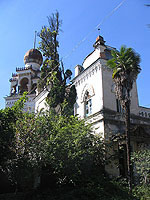 Primorskaya (Maritime) Embankment is one of the most beautiful places in the city, the integral part of the resort city image. Sukhumi embankment was named like this in honor of Abkhazians resettled to Ottoman Empire by the tsar's government in the 19 th century. Read more...
Abkhazian State Drama Theater Named After S. Chanba
The theater building is an example of the early 20 th -century architecture. It was built in 1912 as "Grand-Hotel" with the 670-seat theater. Read more...
State Russian Drama Theatre
The theatre opened in 1981 as Sukhumi State Russian Theatre for young spectators. Read more...
Prospekt Mira
The main city street is the place where basic business and commerce activities of modern Sukhumi are concentrated. Read more...
Glory Park
Downtown, near the main street there is the Glory Park, the place of grief and pride of the republic citizens. Read more...
Prospect of Leon
It is one of the prettiest city streets leading from the sea to Mount Trapeze. Read more...

Abkhazian State Museum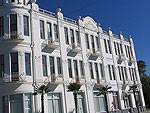 The museum was founded in 1915. Its collections contain natural, archaeological historical and ethnographic objects of Abkhazia. Many of them are absolutely unique and valuable. Read more...

Annunciation Cathedral
This name was given to the former St. Nicolas Greek church built in 1909-1917. Before the last war there were daily divine services; now the cathedral is active on weekends and holidays. Read more...