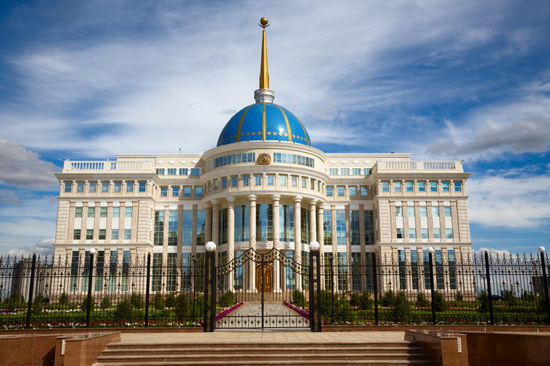 Political system and government of Kazakhstan
According to the Constitution, adopted at the national referendum on August 30, 1995, the Republic of Kazakhstan is a unitary state with a presidential form of government, which has three independent branches: executive, legislative and judicial.
President
President is the head of the state, elected by a national popular vote. Presidential term is five years. Nursultan Abishevich Nazarbayev was re-elected President of the Republic of Kazakhstan for the fourth time at early presidential elections held on April 3, 2011.
Executive branch
Executive power is exercised by the Government of the Republic of Kazakhstan. Composition of the Government is formed by the President of the Republic of Kazakhstan in accordance with the Constitution.
Legislative branch
Legislative power is vested in the bicameral parliament. Parliament has two chambers: the Senate and the Majilis. The Senate consists of deputies: two persons from each province, city of national importance and the capital. The Majilis consists of 107 members. Member of the Parliament cannot be simultaneously a member of both chambers. The term of office of the Senate members is six years; the term of office of the Majilis members is five years.
Judicial branch
Judicial power is vested in the Constitutional Court and a system of local courts. Courts of the Republic are the Supreme Court of the Republic, local courts and other courts of the Republic, established by the legislation.
The administrative divisions
Kazakhstan is divided into 14 provinces:
Akmola province
Aktobe province
Almaty province
Atyrau province
East Kazakhstan province
Zhambyl province
West Kazakhstan province
Karagandy province
Kostanay province
Kyzylorda province
Mangystau province
Pavlodar province
North Kazakhstan province
South Kazakhstan province
Capital city of Astana and Almaty have the status of State importance and do not relate to any province. Baikonur city has a special status.
Local authority
Akimat is a regional executive body in Kazakhstan. Akim is the head of akimat and represents the President and the Government of the Republic in the province.