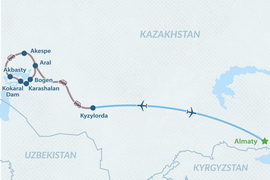 Cities: Aralsk, Kyzylorda, Karateren village, Kokaral dike, Aral Sea, Akbasty village
Duration: 5 days/4 nights

5-day tour to the Aral Sea or rather to what that has left from it. To the place where the sand is filling the shores of once the largest region of the lake. To the place where the abandoned settlements live out their remaining days. To the place where as back as fifty years ago things were humming and fishing flotillas were prowling the blue vast stretches.
Tour itinerary:
Day 1: Almaty – Kyzylorda – Aralsk (475km)
The tour starts in Almaty. In the morning transfer to the airport, to take a flight № KC975, departing to Kyzylorda at 08:25 and arriving at 11:00. Meet with your guide and driver at Kyzylorda airport. Drive to Aralsk via Kyzylorda, Shagan village, Baykonur, Kazalinsk (Aiteke-Bi). Arrive in Aralsk, check in to "Aral" hotel. Overnight at the hotel.
Day 2: Aralsk – Bogen village – Karateren village
After breakfast start sightseeing Aralsk. Visit Aralsk's museum, old port, monument to four ships, local market and the city square. In the afternoon drive to Kombash lake via Aralkum and Kombash villages (75km, 1h). Stop to view the lake. Continue drive to Bogen village (68km, 1h). Arrive in Bogen village. Take a walk along the village and visit local mosque and school. Continue driving to the village Karateren, en route visit Aklak hydro unit on Syr-Darya river. Arrive in Karateren village. Accommodation and overnight in the guest house.
Day 3: Karateren village – Kokaral dike – Akbasty – Karateren village
After breakfast depart Karateren village and drive to Akbasty village (130 km). En route visit Kokaral dam which is 13 km long and separates the two parts of the Aral Sea. See sluices of the dam through which blue water from the Small Aral sea flows into the Big Aral. The dam aims to increase the sea level of the Nothern Aral Sea and save it from further devastation. The dam has caused the small Aral's sea level to rise up to a level of 42m from a low of less than 30m. Water salinity in the Northern Aral has also decreased. The sea, which had receded almost 100 km south of the port-city of Aralsk, is now a mere 25 km away. Continue to the settlement Akbasty, located among sands of the Priaralie. Local people are engaged in fishing and camel breeding. The most interesting place in Акbasty, is a local cemetery among barchans. Drive back to Karateren village. Overnight in the guest house.
Day 4: Karateren village – Kyzylorda – Almaty
After breakfast drive to Kyzylorda via Karateren, Bogen, Amanotkel, Kazalinsk villages, Baikonur town and Shagan village (572km). En route visit Korkyt-Ata architectural complex. Arrive in Kyzylorda. Check in to "Asetan" hotel. Overnight at the hotel.
Day 5: Kyzylorda – Almaty
After breakfast transfer to the airport, to take a flight №KC976, departing to Almaty at 11:30 and arriving at 12:20. Pick-up from the airport and transfer to hotel/private residence. End of the tour.
Accommodation:
| | | |
| --- | --- | --- |
| Destination | Accommodation | Number of nights |
| Aralsk | Aralsk * | 1 |
| Karateren village | Guest house ** | 2 |
| Kyzylorda | Asetan | 1 |
Prices:
| | |
| --- | --- |
| Number of travellers | Price per person, USD |
| 2 | 1990 |
| Single supplement | 155 |
| Half board supplement | 65 |
| Full board supplement | 120 |
Price includes:
All transfers on 4WD type Russian vehicle without A/C (max. 3 persons + 1 guide in one car), sedan car in Almaty for airport transfers;
Accommodation in hotels and guesthouses, breakfasts included;
Economy class ticket for flight Almaty – Kyzylorda – Almaty;
Local English speaking guide;
Entrance fees and ecological taxes;
One lunch and one dinner at Karategen village;
Bottled water 1.5l per person a day.
Price does not include:
Personal travel insurance;
International flight tickets;
Visa support to Kazakhstan;
Consular fees for Kazakhstan tourist visa;
Tour leader to accompany travellers for the whole period of the tour;
Charges for additional services.
* - Hotel Aral in Aralsk has only 2 Grand Suite rooms with private bathroom and hot water. These rooms are often booked. Standard rooms have private bathroom without hot water and without shower facilities. There is a shared bathroom at the hotel where it is possible to take shower.
** - The owner of the guest house lives in the same house. The beds are not available, so you will sleep on the mattresses on the floor with linen in private room. The toilet in the guest house in Karateren village is outside of the house. The guest house has bathroom where you can take shower with hot water.