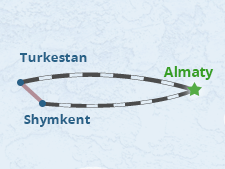 4-day tour to the places related to the name of Khoja Ahmed Yasawi one of the most respected in the Islamic World of sufis and poets. Within the tour to the South of Kazakhstan, travelers will visit Turkestan, an old capital of Kazakh Khanate where one can see Islamic architectural complexes and in the first of all the grand mausoleum of Ahmed Yasawi. Besides you will have a unique opportunity to visit 'night bazaar'. In the suburbs of Shymkent, the third largest city of Kazakhstan, there are many pearls of architecture and holy sites scattered around. Pilgrimage to Turkestan will gift its visitors some thrilled moments at the sacred places that they will carry in their memories forever.
Tour Itinerary:
Day 1: Almaty – Turkestan
Transfer to railway station – departure to Turkestan. Overnight in the train.
Day 2: Turkestan
Arrival to Turkestan.Visiting of Azret-Sultan historical - architectural complex - Khoja Ahmed Yasawi mausoleum, Turkestan town necropolis, oriental baths and underground mosque. In the evening visiting to "night bazaar". Overnight at the hotel.
Day 3: Turkestan – Shymkent – Almaty
Early in the morning transfer to Shymkent. On the way visiting of Arystan-Bab (Khoja Ahmed Yasawi's teacher's mausoleum) and Otrar town excavations. Arrival to Shymkent. The rest of the day excursion to Sayram village: "Ibragim-Ata" mausoleum of Khoja Ahmed Yasawi's father; "Kharashash-Ana" mausoleum of Khoja Ahmed Yasawi's mother; Middle ages minaret. After lunch continue excursion to Kemekalgan village - so called "forgiving sins "Adam&Eve" cliffs", stone made statues of animals, water from healing strings. In the evening transfer to Shymkent railway station. Train back to Almaty. Overnight in the train.
Day 4: End of the tour
Arrival to Almaty. Transfer to the hotel. End of the tour.
Prices:
| | | | | | |
| --- | --- | --- | --- | --- | --- |
| Number of travellers | 1 | 2 | 3 | 4 | 5 |
| Price per person, USD | 1320 | 815 | 660 | 630 | 570 |
Single supplement - 45 USD
Accommodation
| | | |
| --- | --- | --- |
| City | Hotel | Number of nights |
| Turkestan | | 1 |
Price includes:
All land transfers;
Tickets for train Almaty-Turkestan, Shymkent-Almaty;
Accommodation based on double room sharing, including breakfast;
Sightseeing tour program in each city;
English speaking guide in Shymkent and Turkestan;
Entrance tickets to the sights, museums, mausoleums.
Price does not include:
Meals: Lunch and Dinner;
Charges in hotels for additional services;
Personal insurance.