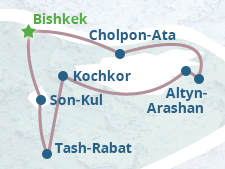 Son-Kul is a national pride of Kyrgyz people. A big lake with hundreds of kilometers of the shore line was inhabited for a very long time. Tracks of that ancient civilization can still be met on the shores of Son-Kul. This 8-day tour will allow you to learn many interesting facts about the history and culture of people living on Kyrgyz land as well as enjoy wonderful views of snow-capped mountains standing above the turquoise lake. Besides, the tour program includes a city walk in the capital of Kyrgyzstan – Bishkek.
Tour itinerary:
Day 1: Bishkek
As you arrive in Bishkek, you will be met at the airport and transferred to the hotel. After some rest sightseeing tour around Bishkek: you will visit central Ala-Too Square, Duboviy Park (Oak Park), Pobeda Square (Victory Square), Museum of Fine Arts, National Philharmonic Hall, Oriental market – Osh Bazaar, Art Gallery and many other places of interest. Overnight at the hotel.
Meals: Breakfast / Dinner

Day 2: Bishkek - Son Kul Lake
After breakfast transfer to the second largest lake in Kyrgyzstan - Son Kul Lake.It is situated at the height of 3013 meters above sea level and surrounded by beautiful mountains. It is a great place where you can experience a nomadic life style and relax from busy city life. On arrival, you will be free to explore and enjoy the virgin nature of the lake and its surroundings. You will have dinner and overnight at Kyrgyz yurts, which are made of a wooden skeleton, covered with felt coverings. Yurts are built without nails.
Meals: Breakfast / Dinner
Day 3: Son Kul Lake - Tash Rabat Caravanserai (Stone castle)
After breakfast transfer to the Tash Rabat- Caravanserai on the Great Silk Road (Stone Castle from the 14th century). Tash Rabat is located in the very heart of Tian Shan Mountains. And it has no analogue in the whole world, because it was made of stones and, moreover, was built inside a mountain at a height of 3200 m above sea level. This building relates to the remains of one of the cities on the Great Silk Road and it had been used as a hotel and shelter for travelers. In total, there are 31 rooms in the mountain. The thickness of walls reaches 1 m. There are also underground prison cells for criminals.Dinner and overnight at yurts near by the Tash Rabat caravanserai.
Meals: Breakfast / Dinner
Day 4: Tash Rabat - Kochkor valley
After breakfast transfer to Kochkor village.On arrival atKochkor you will visit a felt carpet workshop where you can watch the process of making Kyrgyz national felt carpets and souvenirs, and even take part in making carpets. Dinner with a Kyrgyz family and overnight at the home stay.
Meals: Breakfast / Dinner

Day 5: Kochkor valley - Karakol
After breakfast transfer to Karakol along the southern shore of the Issyk-Kul lake (200 km), the second largest alpine lake in the world (1608m.(it should be consistent either m or m. or meters above sea level). The Lake is also called "Kyrgyz Sea" because of its huge size. On the way you will drive through the gorgeous valley and pass the Orto Tokoi reservoir and Jety-Oguz Gorge. Picturesque Jeti-Oguz gorge is located 28 kilometers to the south-west of the town of Karakol. Its name in Kyrgyz language means "Seven bulls". The name is symbolic, because there is a 35 m long wall of seven huge red-brown cliffs resembling ranked furious bulls standing together.
In front of the cliffs there are flat mountain slopes, thickly overgrown with grass and pine trees. Especially romantic look has the rock "Broken Heart", located at the entrance to the gorge. Jeti-Oguz is also famous for its hot springs rich in radon and hydrogen sulfide. There is a resort where the springs hit out of the ground, at the altitude of 2200 m.
The water in springs is useful for the treatment of rheumatism, gastric and nervous system diseases. Climbing higher, you can reach the pan of Kok-Dzhayyk with wonderful views of the gorge, or the Valley of Flowers strewn with poppies. At the upper part of Jets-Oguz there are also mountain lakes and roaring waterfalls.
After hiking in the Gorge transfer to Karakol town.Lunch in a local café. Sightseeing tour: visit to the museum of M.V. Prejvalsky, one of the world's greatest explorers. His main achievements were crossing of the great desertTaklamakan and discovering more than 4000 animals, including the Horse of Prejevalsky. Later, you will visit the Dungan mosque. One of its unique aspect is the fact that it was built in Chinese style without using a single metal nail. This will be followed by the visit to an old wooden Orthodox Church. Dinner with Uigur family. Kyrgyzstan is multiethnic country and today you will have a chance to taste Uigur food and get acquainted with their culture and traditions. Overnight at the hotel.
Meals: Breakfast / Dinner
Day 6: Karakol- Altyn-Arashan – Cholpon-Ata
In the morning transfer to Altyn-Arashan gorge by Russian military 4WD vehicle.Altyn-Arashan ("Golden Spa") gorge is one of the most famous gorges in Karakol, where you will see wonderful fur tree forests and thermal springs all over the gorge. Afterwards you will have 1 hour for hiking in the gorge and then you will be transferred to the city and continue your trip to Cholpon-Ata town. Upon arrival free day to spend your time on the beach.
Meals: Breakfast / Dinner
Day 7: Cholpon-Ata - Bishkek
After breakfast transfer to Bishkek along the northern shore of the Issyk-Kul lake. On the way visit to an open air museum of petroglyphs (dating back to 800 B.C.), including the local museum. Continue driving to Bishkek by car through a stunning Boom Gorge. Overnight at the hotel.
Meals: Breakfast / Dinner
Day 8: Bishkek - Airport
After breakfast transfer to the airport.End of the tour.
Meals: Breakfast
Accommodation:
City

Deluxe Option

Budget Option

Bishkek

Hotel 4* or similar

Hotel 3* or similar

Son-Kul
Yurts (5-6 people in 1 yurt)
Tash-Rabat
Yurts (5-6 people in 1 yurt)
Kochkor
Home stay (B&B), family run accommodation

Karakol

Green Yard Hotel 3* or similar

Home stay (B*B)

Cholpon-Ata

Raduga Hotel 3* or similar
Prices for 2016:
Pax

Tour price per person

Deluxe option, USD

Tour price per person

Budget option, USD

1*

2685

2415

2

1550

1405

3

1265

1125

4

1115

970

5-6
1080
935

7-8

980

840

9-10

920

775

Single supplement

290

170

Full board for a group 1-4 pax

60

Horse per day

20

Horseman per day

25
Price includes:
Twin room accommodation, including early check in on day 1;
Meals – groups of 1-4 people - as stated in the program; groups of 5-10 people – full board;
Transportation throughout the whole trip;
English speaking guide (except for the day 8 – transfer to the airport);
Sightseeing tour program in all cities according to the program, including entrance fees to sights, museums. Camera/video fees are not included and paid separately;
Mineral water.
Felt carpet workshop in Kochkor
Price does not include:
Hotel charges for additional services;
Single supplement;
Consular fees paid upon collection of the entrance visa to Kyrgyzstan;
Visa support;
Registration in Kyrgyzstan (if required);
Payment for early check in and late check out (check in time is at 13-14.00, check out time is at 12.00);
International airfares;
Horse riding;
Personal insurance and items not mentioned above.