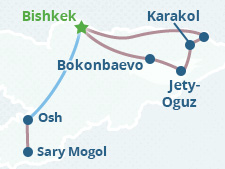 Fascinating week tour to Kyrgyzstan is practically deprived of hackneyed tourist spots. This tour is a rare opportunity to dive into the beauty of mountains where even the most skeptical person will be inspired by the grandeur of nature. You will enjoy the road between cities and villages; you will get through several mountain passes where you will see breathtaking views. The week spent in Kyrgyzstan will be the brightest in a year and you will take the memories of this trip through all your life.
Tour itinerary:
Day 1: Bishkek
Arrival in Bishkek early in the morning. Meeting at the airport and transfer to the hotel. After some rest sightseeing tour: Oak Park, Ala-Too Square, Philarmonic hall, Statue of Manas, Victory Square.
After lunch transfer to the Ala-Archa National Park (40 km). In an hour you will be in the alpine gorge through which the fast flowing Ala-Archa River runs, flanked by tall, snow-covered peaks, steep-sided, fir - forested mountain slopes and alpine meadows cowered with flowers. You will start your walk from the alpine camp (2200 m) to Ak-Sai waterfall–the height is 35 m (2700 m). The path goes through conifer forest and alpine meadows. Return back to the alpine camp. Transfer to Bishkek.
Meals: Breakfast
Day 2: Bishkek – Cholpon-Ata
Transfer from Bishkek to Cholpon-Ata (280 km). On the way stop to see Burana tower, which is left from ancient city Balasagyn (XI - XIII). Lunch at Kyrgyz family. Overnight at the hotel.
Meals: Breakfast / Lunch / Dinner
Day 3: Cholpon-Ata – Karakol
After breakfast visit the museum of petroglyphs in Cholpon-Ata. There will be an excursion in the open-air art gallery of drawings on the rocks, said to date from 500 BC – 100 AD, they depict wolves, long-horned ibex, goats, horses, snow leopards, sacrifices and some hunting scenes. Further, head for Karakol along the north shore of Issyk Kul Lake. The second largest saline lake after the Caspian Sea, Issyk Kul is virtually a basin within the Tian Shan Mountains. A combination of vast depth, salinity and underground thermal activity ensures the lake never freeze. Issyk Kul is also the second largest alpine lake in the world after Lake Titicaca. Sightseeing tour (1-1.5 hours): visit the wooden Russian-orthodox church, Dungan Mosque and Prezhevalskiy Museum. Dinner at Uigur family. Overnight at the hotel.
Meals: Breakfast / Dinner
Day 4: Karakol – Jeti Oguz – Kochkor
Transfer to Jety-Oguz gorge (40 km). A picturesque gorge, which is famous not only for its coniferous forest, flower clearings and interesting gorges for hiking, but also for red and sandy formations which are called «Seven Bulls». and «Broken Heart». Picnic. Transfer to Kochkor where you can watch the process of making Kyrgyz national felt carpets. Family run accommodation.
Meals: Breakfast / Lunch / Dinner
Day 5: Kochkor – Chichkan
Transfer to Chichkan gorge, one of the most fascinating places in Kyrgyzstan with dense forests. This day we will be crossing over mountain passes and through a beautiful Suusamyr valley. Great view is guaranteed. Overnight at the guest house by the river.
Meals: Breakfast / Lunch
Day 6: Chichkan – Osh
Transfer to Osh. On the way you will be passing one of the most beautiful reservoirs in Central Asia, Toktogul, that funnels the gorgeous Naryn River into a hydroelectric station. Visiting a market and mausoleum in Uzgen. Uzgen town was one of the capitals of the Karakhanid Khanate in the 11th and 12th centuries. Family run accommodation.
Meals: Breakfast
Day 7: Osh – Arslanbob
After breakfast there will be city tour in Osh. As legends say, Osh was founded by King Solomon ages ago and had an important position on trading routes of the Great Silk Road. Today you will visit Suleiman-Too (Solomon's Mountain), museum, Osh bazaar – this market locates at the same place as in the times of Great Silk Road.
Transfer to Arslanbob village. There is a large, sacred, revered wild walnut forest which is considered to be the biggest fruit-walnut forest in the world, not far from the village. Dinner with a local family. Family run accommodation.
Meals: Breakfast / Lunch / Dinner
Day 8: Arslanbob – Toktogul
Transfer to Toktogul. Free time for rest before traveling to Bishkek. Family run accommodation.
Meals: Breakfast / Lunch / Dinner
Day 9: Toktogul – Bishkek
Transfer to Bishkek over the Ala-Bel Pass and Suusamyr valley. Arrival in Bishkek. Farewell dinner. Overnight stay at the guest house.
Meals: Breakfast / Dinner
Day 10: Bishkek – Airport
Transfer to the airport. End of the tour.
Meals: Breakfast
Accommodation:
City

Deluxe Option

Budget Option

Bishkek

Hotel 4*

Hotel 3*

Issyk Kul

Raduga hotel 3* or similar

Karakol

Green Yard hotel 3* or similar

Home stay (B&B)

Kochkor

Family run accommodation (B&B)

Chichkan or Suusamyr

Guest house (B&B)

Osh

Hotel 3*

Home stay (B&B)

Arslanbob

Family run accommodation (B&B)

Toktogul

Family run accommodation (B&B)
Prices for 2016:
Pax

Tour price per person

Deluxe option, USD

Tour price per person

Budget option, USD

1*

3600

3270

2

2060

1885

3

1665

1495

4-5

1445

1270

6-7

1305

1130

8-10

1190

1020

Single supplement

365

230

Full board for a group 1-4 pax

75

Horse per day

20

Horseman per day

25
*The price for 1 pax already includes single supplement
**Single accommodation is possible in all places except for Toktogul.
Tour price includes:
Twin room accommodation, including early check in on Day 1;
Meals – groups of 1-4 people - as stated in program; groups of 5-10 people – full board;
Transportation throughout the whole trip.
English speaking guide (except for the day 10 – transfer to the airport);
Sightseeing tour program in all cities according to the program, including entrance fees to sights, museums. Camera/video fees are not included and paid separately;
Mineral water;
Felt carpet workshop in Kochkor.
Tour price does not include:
Hotel charges for additional services;
Single supplement;
Consular fees paid upon collection of the entrance visa to Kyrgyzstan;
Visa support;
Registration in Kyrgyzstan;
Payment for early check in (except for the Day 1) and late check out (check in time is at 13-14.00, check out time is at 12.00)
International airfares;
Horse riding;
Personal insurance and items not mentioned above.