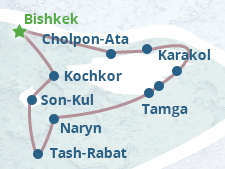 Kyrgyzstan jeep tour introduces you to different colours of Kyrgyzstan, from mild to wild. Of the beaten track tour will show you beautiful Kyrgyz land, you will inhale freshness of the Issyk-Kul Lake, the second largest alpine lake in the world, and experience nomadic life. Explore amazing red rock formations in Jety-Oguz Gorge, delicious local cuisine and famous yurts, nomadic lifestyle houses.
Tour itinerary:
Day 1: Airport – Bishkek
Arrival in Bishkek. Transfer to the hotel. After some rest City tour around Bishkek. You will enjoy soviet-style architecture: Philharmonic concert hall, government building, Monument for the Great War of the Native Country) but also modern monuments pointing out the traditional Kyrgyz culture (Monument of Manas). You will also have a chance to visit the Museum of Fine Arts. Bishkek is one of the most green in Central Asia, due to its countless parks and alleys, which make the town a nice place to live also in the heat of the summer.
After lunch transfer to the Ala-Archa National Park (40 km). You will be in the alpine gorge through which the fast flowing Ala-Archa River runs, flanked by tall, snow-covered, peaks with steep-sided, forested, mountain slopes. Transfer to Bishkek. Overnight at the hotel.
Meals: Breakfast / Lunch / Dinner

Day 2: Bishkek – Kochkor – Son-Kul
In the morning drive to Son-Kul Lake (400 km). Lunch in Kochkor village on the way. Arriving in Son Kul in the afternoon through Kalmak Ashuu pass (3400 m). This is a remote mountain lake situated on a treeless, high mountain plateau (3016 m) where shepherds bring the livestock in the summertime, establish a camp where they will live – setting up their yurts. In this magnificent place you can see hundreds of herds and a lot of different yurts, where you will certainly be invited to have kymyz, the national drink made of fermented mare's milk with a traditional bread, try other diary products and home made jam. Dinner and overnight in yurts.
Meals: Breakfast / Lunch / Dinner
Day 3: Son-Kul – Tash-Rabat Caravanserai (Stone castle)
In the morning after breakfast start your drive to Tash Rabat (14th century Stone Castle). Today you will drive through "38 Parrots" pass (3000 m) and Dolon pass (3020 m). Stop in Naryn for lunch.
Tash Rabat is located in the heart of Tian Shan Mountains. The stone made sight built inside the mountain (3200 m) has no analogue in the world. The building had been used as hotel and shelter for travelers on the Great Silk Road. In total there are 31 rooms in the mountain. The thickness of walls is 1 m. There are also underground prison cells for ancient thieves. Dinner and overnight in yurts near the Tash Rabat caravanserai.
Meals: Breakfast / Lunch / Dinner
Day 4: Tash Rabat Caravanserai – Naryn
After breakfast drive to Naryn. It is a town with a long, thin shape which straddles the fast flowing Naryn River and is set between high, steep cliffs. The River Naryn is the longest in Kyrgyzstan (535 km). It is an ancient tributary of the Syr-Darya River. Overnight in the guesthouse.
Meals: Breakfast / Lunch / Dinner
Day 5: Naryn – Tamga
Early in the morning start driving towards Tamga village. Today you will drive whole day. The road goes through Tosor pass (4020 m), one of the highest passes in Kyrgyzstan. Overnight at the guest house.
Meals: Breakfast / Lunch / Dinner
Day 6: Tamga – Jety- Oguz – Karakol
After breakfast transfer to Jety-Oguz Gorge. Picturesque Jeti-Oguz gorge is located 28 km to the south-west of the town of Karakol. Its name in Kyrgyz language means "Seven bulls". The name is symbolic, because there is a 35 m long wall of seven huge red-brown cliffs resembling ranked furious bulls standing together.
In front of the cliffs there are flat mountain slopes, thickly overgrown with grass and pine trees. Especially romantic look has the rock "Broken Heart" located at the entrance to the gorge. Jeti-Oguz is also famous for its hot springs with water enriched with radon and hydrogen sulfide. There is a resort in the place where they hit out of the ground at the altitude of 2200 m.
The spring water helps to treat rheumatism, gastric and nervous diseases. Rising higher, you can reach the pan of Kok-Dzhayyk with wonderful views of the gorge, or the Valley of Flowers strewn with poppies. At the upper part of Jets-Oguz there are also mountain lakes and roaring waterfalls.
After hiking in the Gorge transfer to Karakol town. Lunch in a local café. Sightseeing tour: visit to the museum of M.V. Prejvalsky, one of the worlds greatest explorers. His main achievements were the crossing of the great desert Taklamakan and the discovery of more than 4000 animals, including the Horse of Prejevalsky. Later, you will visit the Dungan mosque built in Chinese style without using a single metal nail. This will be followed by the visit of an old wooden Orthodox Church. Dinner in Uigur family. Kyrgyzstan is multiethnic country and today you will taste Uigur food and get acquainted with their culture and traditions. Overnight at the hotel.
Meals: Breakfast / Lunch / Dinner
Day 7: Karakol – Grigorievska – Issyk Kul
After breakfast transfer to Cholpon-Ata city. The road will go along the northern shore of the Issyk-Kul Lake (120km). On the way turn to Grigorievska gorge.
In Grigorievska gorge there are three beautiful mountain lakes. Picnic in the open air. After lunch continue your drive to Cholpon Ata.
On arrival, excursion to the open-air art gallery of stone, said to date from 500 BC – 100 AD, which depict wolves, long-horned ibex, goats, horses, snow leopards, sacrifices and some hunting scenes. Free time. Overnight at the hotel.
Meals: Breakfast / Lunch / Dinner
Day 8: Issyk-Kul – Bishkek
After breakfast you will have free time till you are picked up by your guide and driver. Transfer to Bishkek city (280 km) by car through a stunning Boom Gorge. On the way visit Burana Tower (minaret of 11th century) and the open air museum of stone warriors. Overnight at the hotel.
Meals: Breakfast / Lunch / Dinner
Day 9: Bishkek – airport
Transfer to the airport. End of the tour.
Meals: Breakfast
Accommodation:
City

Deluxe Option

Budget Option

Bishkek

Hotel 4*

Hotel 3*

Son-Kul

Yurt camp (4-5 people in 1 yurt)

Tash-Rabat

Yurt camp (4-5 people in 1 yurt)

Naryn

Guest house 2*

Home stay (B&B)

Tamga

Guest house 2*

Karakol

Hotel 3*

Home stay (B&B)

Issyk-Kul

Hotel 3*
Tour price includes:
All transfers – transport with a driver on Days 1 and 9; Self driving on Days 2 - 8;
Twin room accommodation, including early check in on Day 1;
Entrance tickets to the sites, museums, mausoleums. Camera and photo fees are not included and should be paid separately;
Meals – full board;
English speaking guide to accompany the group;
Mineral water;
Support car (for a group of 3-16 people);
Mechanic.
Tour price does not include:
Charges in hotels for additional services;
Single supplement;
Consular fees for Kyrgyzstan visa;
Visa support for Kyrgyzstan visa;
Payment for early check in (except for the Day 1) and late check out (check in time is at 13-14.00, check out time is at 12.00);
Photography and video making fees;
Personal insurance;
International airfare;
Alcohol and soft drinks;
Deposit for jeep – 1000 USD (it will be refunded on Day 8);
Petrol/oil.