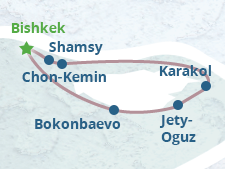 Activities: rafting, horse back riding, walk in the mountains, sailing trip, experience the culture of Kyrgyz people.
Kyrgyzstan Multiactive Tour 1 is a very interesting and dynamic tour whose program includes rafting, horse and walking passage in the mountains, boat tour in the Issyk-Kul Lake. In addition, during the trip you will enjoy architectural sights of Bishkek, Karakol and Cholpon-Ata, and also you will have an opportunity to get familiarized with the every-day life and traditional culture of the Kyrgyz people.
Tour itinerary:
Day 1: Airport – Bishkek
Arrival in Bishkek, transfer to the hotel. After some rest Sightseeing tour: Oak Park, Ala-Too Square, Philarmonic hall, Statue of Manas, Victory Square and Oriental market – Osh bazaar. After lunch transfer to the Ala-Archa National Park (40 km). You will be in the alpine gorge through which the fast flowing Ala-Archa River runs, flanked by tall, snow-covered, peaks with steep-sided, forested, mountain slopes. Hiking in the gorge. Return back to the alpine camp. Transfer to Bishkek. Overnight at the hotel.
Meals: Breakfast
Day 2: Bishkek – Shamsy – Chon-Kemin
In the morning transfer to Shamsy gorge (110 km). Meet our local guide with horses. The slopes of the gorge are covered with dog roses, barberry, mountain ash, juniper, and fir tree forest. This day you ride up toward to Shamsy pass towards Toru Kaiyn gorge (3-4 hours). Lunch in a local house. After lunch you will have chance to ride far from the house. Transfer to Chon-Kemin. Overnight in the guest house.
Meals: Breakfast / Lunch / Dinner
Day 3: Chon-Kemin river (rafting) – Issyk Kul
In the morning transfer to Chon Kemin river. You will have rafting on Chon Kemin River , category of difficulty is 3,4. Experience guides will be with tourist group during the rafting. After rafting transfer Issyk Kul. Lunch on the way. On the way visit to Konorchak canyons. They were formed about one and a half to two million years ago and since that time erosion by wind and water has turned a plain plateau into gigantic stone pillars, some of which are 400- 500 meters high. Transfer to Issyk-Kul Lake. Accommodation in the hotel on the North Shore of Issyk-Kul Lake.
Meals: Breakfast / Lunch / Dinner
Day 4: Issyk-Kul – Karakol
In the morning there will be boat trip at the Issyk-Kul Lake. Lunch. Drive to Karakol (160 km ). On the way, in Cholpon-Ata visit open-air art gallery of stone, said to date from 500 BC – 100 AD, they depict wolves, long-horned ibex, goats, horses, snow leopards, sacrifices and some hunting scenes. Arriving to Karakol. Overnight in Karakol.
Meals: Breakfast / Dinner
Day 5: Karakol – Jety-Oguz gorge – Bokonbaevo
In the morning city tour in Karakol. Visit the wooden Russian-orthodox church, Dungan Mosque and Prezhevalsky-Museum. Drive to Jety-Oguz gorge, which is a lush valley with some striking red sandstone rock formations (the "seven Bulls" from which the valley takes its name). Picnic. Next stop to visit "Skazka", fantastic gorge with red mountain formations. One of the best views on the Issyk-Kul Lake is guaranteed. Continue transfer to Bokonbaevo. Overnight in Bokonbaevo.
Meals: Breakfast / Lunch / Dinner
Day 6: Bokonbaevo - Bishkek
Bokonbaevo village is famous with falcon and eagle hunters. Today after breakfast you will have a chance to watch a falcon or eagle hunting show. Transfer to Bishkek ( km). On the way visit Burana tower, which marks the original site of the Karakhanid town, Balasagun. Continue driving to Bishkek. Farewell dinner. Overnight at the hotel.
Meals: Breakfast / Lunch
Day 7: Bishkek – Airport
Transfer to the airport (30 km). End of the tour.
Meals: Breakfast
Accommodation:
City

Deluxe Option

Budget Option

Bishkek

Hotel 4*

Hotel 3*

Chon Kemin

Ashu Guest House 2*

Issyk-Kul

Hotel 3* or similar

Karakol

Amir Hotel or similar

Home stay (B&B)

Bokonbaevo

Home stay (B&B)
Price includes:
Twin room accommodation, including early check in on Day 1;
Meals – groups 1-4 people – as stated as the program; groups 5-10 people – full board;
Transportation throughout the whole trip;
English speaking guide (except for the day 7 – transfer to the airport);
Sightseeing tour program in all cities according to the program, including entrance fees to sights, museums. Camera/video fees are not included and paid separately;
Rafting on the Chon Kemin river;
Horse back riding trip in Shamshy;
Boat trip (1 hour);
Mineral water.
Price does not include:
Hotel charges for additional services;
Single supplement;
Consular fees paid upon collection of the entrance visa to Kyrgyzstan;
Registration in Kyrgyzstan;
Payment for early check in (except for Day 1) and late check out (check in time is at 13-14.00, check out time is at 12.00);
International airfares;
Visa support;
Personal insurance and items not mentioned above.