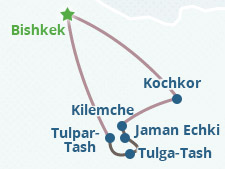 Emerging travel destination Kyrgyzstan is the one of best places for horse riding tours. The Telegraph expert Chris Moss says that this "rugged country" has long been favoured by horseback riders, because it's the best way to access "the fertile valleys and mountain passes". Small group scheduled horse riding tour will open up essentials of Kyrgyz lifestyle that has inherited and kept much from the nomadic ancestors. You will be transferred to the world of stunning scenery, high mountains, inspiring nature; stay in yurts, try authentic nomadic food and ride around beautiful Son Kul lake.
Group size: max - 10 persons; min - 4 persons
Single supplement: 60$, available in the hotels and family run accommodations.
Pre-requisites: you are expected to be capable of mounting and dismounting unassisted, comfortable and in control at a walk with the saddle, trotting on the flat ground.
Tour notes: during the tour a local guide and horseman will look after you and the horses. Riding time is approximately 4-6 hours per day. The altitude varies between 800 – 2500 m above sea level.
Tour itinerary:
Day 1: Bishkek – Kochkor
We will meet and transfer you to the hotel upon your arrival in Bishkek. After some rest till noon a short city tour in the center of Bishkek starts. You will visit the central square, Osh bazaar (oriental market). After Transfer to Kochkor village (260 km) and have lunch on the way. Optionally visit felt carpet workshop, where you can not only buy souvenirs but make them yourself. Dinner with Kyrgyz family will round up first day introduction to this unusual country. Stay at the family run accommodation.
Meals: Breakfast / Lunch / Dinner
Day 2: Kochkor – Kilemche – Jaman Echki
After an early breakfast you will be transferred to Jumgal valley, to the starting point of the horse ride below the Kyzart pass. You will be met by the guide and horsemen. You will cross Kyzyl-Kiya jailoo, an enormous, relatively flat sea of grass. Continue over the Chaar-Archa Pass (3 061 m) to the Chaar-Archa Valley and you will have lunch at Kilemche jailoo, with views of 4400 m high Baba-Ata Mountain..
After lunch riding lies through Jalgyz Karagai pass (3400 m), over the Song-Kol Mountains.
Riding time about 5-6 hours.
Dinner and accommodation at the yurt camp.
Meals: Breakfast / Lunch / Dinner
Day 3: Jaman Echki – Tulpar-Tash
Breakfast. Horse riding about 4-6 hours along the lake. Local people live and graze their livestock on the meadows (jailoo) around the lake, from June till September. You will taste the wilderness and freedom of nomadic life here. It will be possible to taste the Kyrgyz traditional drink kymyz (fermented mare's milk)
Riding time about 4-6 hours.
Dinner and Overnight at the yurts.
Meals: Breakfast / Lunchbox / Dinner
Day 4: Tulpar-Tash – Tulga-Tash
After breakfast you will have horse riding for about 4-6 hours. You will explore stone circles on the southern shore of Son-Kul lake. "Tash-Tulga" or "Tulga-Tash" means heart, built of stones. In the archaeological literature they are called "eight-stone memorial fences". They date back to the 1st century BC.
Riding time about 4-6 hours.
Dinner and overnight at the Ak Sai yurt camp.
Meals: Breakfast / Lunchbox / Dinner
Day 5: Son-Kul lake – Bishkek
After breakfast Transfer to Bishkek (350 km). On the way you will visit Burana Tower, 11th century sight in the ancient town Balasagun that was located on the Great Silk Road. Arrival in Bishkek.
Accommodation in the small private hotel.
Meals: Breakfast / Lunch / -
Day 6: Bishkek
Transfer to the airport.
Details:
Price includes:
Double room accommodation in Bishkek and Kochkor;
Four-people accommodation in the yurt;
Meal based on full board from breakfast in Day 1 to lunch in Day 5;
Mineral water before horse riding and after horse riding (1 L per person a day);
Boiled water during horse riding days;
English speaking tour guide;
Personnel for trek (stableman);
Horses for the clients;
Transport for all transfers according the program.
Price does not include:
Single room accommodation;
Alcohol and soft drinks, deserts;
Horses for luggage;
Dinner in day 5;
International flights.
Payments:
Given price is valid if the payment is done via bank transfer.
If you prefer to pay in cash upon arrival, price will be 5% cheaper.
Conditions:
1) Yurt accommodation facilities:
Yurts included in the itinerary will accommodate 4-5 pax.
• Jaman-Echki yurt camp offers shower and normal toilet facilities outside.
• CBT Yurts in Tulpar-Tash are simple yurts of the shepherds. Simple food. The toilet facilities are very simple, no shower.
• Tash-Dobo Yurt camp offers shower and normal toilet facilities outside.
2) Horse and luggage:
You will ride the shepherds Kyrgyz horses. They are not big but very strong and able to make long distances on the high mountain trails.
Horse will be equipped with traditional Kyrgyz saddles, similar to American Cowboys saddles. It also includes bags where you can store your personal belongings.
You might like taking part of your luggage with yourself. Saddle bags provide enough space for it. The rest of your luggage will be delivered to the last yurt camp.
Also, there are luggage horses available at additional cost to carry your bags only.
Supplement for luggage horse is 30 USD per day
What will you need?
Down jacket, warm sweater, silk sleeping bag liner, rain gear (waterproof trousers should have an opening on the outside at the bottom of the leg in order to put on and take off without removing your trekking boots), 2-3 pairs of warm socks, waterproof trekking boots, gloves, sunglasses, sun cream with high UV-protection, lip balm with UV-protection, horse chaps and safety horse riding helmets.
For additional price you can rent the horse chaps and safety horse riding helmets. The cost of the renting is 1 USD per day for the horse chaps and 1 USD per day for the helmet
Health
If you have some specific sicknesses you need to bring own first aid kit with necessary medicaments.
Note:
Please be aware of the possibilities that circumstances may arise which would cause some activities to be shortened or eliminated altogether without reimbursement or refund. Such circumstances include weather conditions, earthquakes and other acts of nature, injuries or other medical problems. None of the eventualities described above will give you a right to a refund or other forms of reimbursement.
Some more notes:
The price is given on the basis of 3 star's hotel accommodation in Bishkek. It is subject for change upon request for additional payment.
Please keep in mind that people in the countryside do not stick to time and can be late for 20-30 minutes. So it may not always be on time according to the itinerary, especially when local people cook and serve food or organize horses for riding.
People in Kyrgyzstan are very friendly and there are usually no issues with taking photos. Nevertheless, we would strongly suggest asking permission if you wish to take pictures of old people, mosques, churches, funerals etc or in countryside as people may be offended.