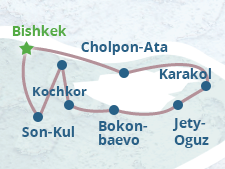 Enjoy meeting new people and take scheduled tours in Kyrgyzstan with the group of tourists from around the world. In addition to custom made individual tours in Kyrgyzstan, we offer the most popular tour itinerary in Kyrgyzstan with the guaranteed departure dates in 2017.
Make your journey big and combine Kyrgyzstan trip with Uzbekistan group tour.
The itinerary of the day 6 varies according to the season: in April-May – a trip to the Chon-Kemin gorge, in June-September – to the Lake Son-Kul.
Group size: 3 – 12 pax
Single supplement: $205
Tour itinerary:
Day 1: Bishkek arrival.
Arrival to Bishkek. Transfer to the hotel. Time for rest. Overnight at the hotel.
Day 2: Bishkek
After breakfast transfer to the Ala-Archa National Park (40 km). You will be in the alpine gorge through which the fast flowing Ala-Archa River runs. The gorge is flanked by tall, snow-covered, peaks with steep-sided, forested, mountain slopes. Picnic. Hiking in the gorge. Return back to the alpine camp. Transfer to Bishkek. Dinner in a local restaurant. Overnight at the Hotel
Meals: Breakfast/Lunch
Day 3: Bishkek – Cholpon-Ata
Transfer from Bishkek to Cholpon-Ata (280 km). On the way stop to see Burana tower, which is left from ancient city Balasagyn (XI - XIII). Next stop is an open air museum of petroglyphs in Cholpon-Ata. There will be an excursion in open-air art gallery of stone, said to date from 500 BC – 100 AD, they depict wolves, long-horned ibex, goats, horses, snow leopards, sacrifices and some hunting scenes. Overnight at the hotel.
Meals: Breakfast/Dinner
Day 4: Cholpon-Ata – Karakol
Transfer to Karakol (150 km). City tour in Karakol: visiting Prjevalsky museum, Wooden Orthodox Church, Dungan mosque in Chinese style. Dinner in Uigur or Dungan family. Kyrgyzstan is a multiethnic country and during this tour you will have a chance to get acquainted with different nations and cultures. Today you will have a dinner in Uigur or Dungan family. These nations came to Kyrgyzstan from China and live in Karakol since 1869. Overnight in the guest house.
Meals: Breakfast/Dinner
Day 5: Karakol - Jety-Oguz – Kochkor
Transfer to Kochkor along the Southern Shore of Issyk-Kul lake. On the way visit to Jety-Oguz gorge. Your guide will tell you a legend about Jety-Oguz (seven bulls) and Broken Heart rock. After lunch transfer to Bokonbaevo where you will see an eagle hunting show. Continue driving to Kochkor. One of the best views on the Issyk-Kul Lake is guaranteed. On arrival you will visit a felt carpet workshop in Kochkor. It's a place where you can see the process of making Kyrgyz national felt carpets. There will be a Kyrgyz folkloric dinner show with Kyrgyz national music and songs. Family run accommodation.
Meals: Breakfast/Lunch/Dinner
Day 6 (april-may): Kochkor – Chon-Kemin
Transfer to Chon-Kemin. After lunch you will have time to hike or walk in the gorge. Dinner in the guest house. Overnight in the guest house.
Meals: Breakfast/Lunch/Dinner
Day 6 (june-september): Kochkor – Son-Kul
Transfer to Son-Kul (120 km). Son-Kul is one of the highest lakes in Kyrgyzstan (2030 m above sea level). It's a place where you can experience a nomadic life. You will have a chance to ride a horse, see edelweiss flowers, camels, yaks, golden eagles, and to see how local women make Kyrgyz national drink – Kymyz (mare's milk). This is a remote mountain lake situated on a treeless, high mountain plateau ( 3016 m ) where shepherds bring the livestock in the summertime, establish a camp where they will live – setting up their yurts. In this magnificent place you can see hundreds of herds and a lot of different yurts. Dinner. Overnight in the yurt camp.
Meals: Breakfast/Lunch/Dinner
Day 7: Son-Kul – Bishkek
Early in the morning transfer to Bishkek (320 km). Arrival in Bishkek. Afternoon sightseeing: visit Philarmonic hall, Statue of Manas, Oak Park, Ala-Too Square, Victory Square, Museum of Fine Arts. Farewell dinner. Overnight in the guest house.
Meals: Breakfast/Dinner
Day 8: Bishkek – Airport
Transfer to the airport (30 km), departure. End of the tour.
Meals: Breakfast
Accommodation:
| | |
| --- | --- |
| City | Budget Option |
| Bishkek | Hotel 3* |
| Issyk Kul | Hotel "Raduga" or similar |
| Karakol | Green Yard hotel 3* or similar |
| Kochkor | Family run accommodation (B&B) |
| Son-Kul | Yurts (4-6 people in one yurt) |
Prices include:
Single room accommodation;
Meals – as stated in the program;
Transportation throughout the whole trip;
English speaking guide to accompany the group (except for the days 1 and 8 – transfer to the airport);
Entrance fees to sights, museums. Camera/video fees are not included and paid separately;
Felt carpet show in Kochkor;
Eagle hunting show in Bokonbaevo;
Kyrgyz folkloric in Kochkor.
Prices do not include:
Hotel charges for additional services;
Early Arrival charge;
Horse riding in Cnon-Kemin / Son-Kul;
Consular fees paid upon collection of the entrance visa to Kyrgyzstan;
Visa support;
Full board meals;
International airfares;
Personal insurance and items not mentioned above.