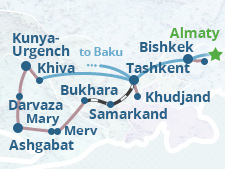 Book the Great Silk Road group tour and bring out adventurous Marco Polo in yourself gradually discovering new lands, new cultures and new people. You will cross thousands of kilometers, see hundreds of magnificent landscapes, study dozens of cities with like-minded people around. The route of this grand tour lies across 8 countries, each of which differs with its national specifics.
The 25 day tour will introduce you to Kyrgyzstan, Kazakhstan, Uzbekistan, Tajikistan, Turkmenistan, Azerbaijan, Georgia and Armenia. Your journey goes from East to West across Central Asia and Caucasus as it was done by Chinese merchants thousand years ago. Diversity of architecture, ethnos and culinary traditions will gift you a wide spectrum of impressions. This is the trip where you can see and experience the maximum at once.
Book till 28th February 2017 and get $200 discount.

Group size: Max - 14 persons. Min - 3 persons
Single supplement: 830 USD
Tour itinerary:
Day 1, Sunday: Almaty – arrival
Arrive in Almaty. You will be met by our driver and transferred to the hotel. Check in to the hotel at 14:00. Free time. Overnight at the hotel.
Day 2, Monday: Almaty – Bishkek
Breakfast. At 09:00 your guide and driver will meet you at hotel lobby to start the sightseeing tour in Almaty: visit Panfilov Park, Zenkov Cathedral, Republic Square. Enjoy panoramic view at Kok-Tobe Hill, visit Medeo Gorge.
At 15:30 transfer to the Airport to get the flight KC109 to Bishkek at 18:00. Arrival at Bishkek at 18:55. Transfer to the hotel. Free time. Overnight at the hotel.
Duration of sightseeing tour: 5-6 hours
Day 3, Tuesday: Bishkek – Burana – Bishkek
After breakfast transfer to Burana Tower dated to 10-12th centuries. Burana Tower is a historical complex, which marks the original site of the Karakhanid town, Balasagun.
In the afternoon return to Bishkek for city tour. Visit Oak Park, Ala-Too Square, Statue of Manas. See Philharmonic Hall and Victory Monument – bright examples of Soviet architecture. Overnight at the hotel.
Duration of sightseeing tour: 4-5 hours
Meals: Breakfast
Day 4, Wednesday: Bishkek – Tashkent
At 04:00 transfer to Bishkek International Airport for flight HY778 to Tashkent at 06:45 (580 km, 1 h. 20 min.). Arrival at Tashkent at 07:05. Transfer for breakfast and check in hotel. At 11:00 start sightseeing Tashkent. Visit Old City part of Tashkent with Khast-Imam Complex and Chorsu bazar, continue to center of Tashkent with Amir Timur Square, Independence Square and Applied Arts Museum. Overnight at the hotel.
Duration of sightseeing tour: 4-5 hours
Day 5, Thursday: Tashkent – Khudjand – Tashkent (170 +170 km, 2.5 +2.5 hrs)
Breakfast. At 08:00 drive to Uzbekistan-Tajikistan border point Oybek (100 km, 1 h. 30 min.). After completing customs and passport control on both sides, tajik local guide and driver will meet you on the tajik side and take you to Khujand (70 km, 1 h.). Start sightseeing Khujand. You will explore the Sughd Historical Museum, Timur-Malik Fortress, Mosque and Madrasah of Shaikh Muslihiddin, Payshanba Bazaar. You will try delicious Tajik cuisine at the local restaurant. Drive back to Tajikistan-Uzbekistan border point Oybek. After passing the border Oybek, the driver will meet you on Uzbekistan side and transfer to your hotel in Tashkent.
Duration of sightseeing tour: 3-4 hours
Day 6, Friday: Tashkent – Samarkand
Early breakfast. At 07:00 transfer from your hotel to railway station. Fast-speed train "Afrosiyob" departs Tashkent at 08:00 and arrives in Samarkand at 10:10 (300 km). Your guide and driver will meet you at train station to begin the city tour in Samarkand. Visit spectacular Registan Square, remains of Bibi-Khahum mosque, Ulugbek observatory, Shakhi-Zinda Necropolis, central Samarkand bazaar and Gur-Emir Mausoleum, authentic shrine of Tamerlane. Free time in the afternoon. Overnight at the hotel.
Duration of sightseeing tour: 6-7 hours
Day 7, Saturday: Samarkand
After breakfast continue sightseeing Samarkand: visit Afrosiyob Museum and the Tomb of Saint Daniel. Then drive to Koni Ghil village to explore traditional way of making Samarkand paper from mulberry. Free time. Overnight at the hotel.
Duration of sightseeing tour: 3-4 hours
Day 8, Sunday: Samarkand– Bukhara (265 km, 4 hrs)
In the morning depart Samarkand and drive to Bukhara (280 km, 4-5 h.). Stop on the way at Rabati-Malik Caravanserai. Continue driving to Bukhara. Arrive in Bukhara, check in to the hotel.
Spend your afternoon in fascinating Old Bukhara which is listed by UNESCO as a World Heritage Site. Explore Kalyan Minaret, Kalyan Mosque and Miri-Arab Madrasah, Magoki-Attori Mosque, madrasahs of Ulugbek and Abdulazizkhan, trade domes, Lyabi Hauz Ensemble, Chor-Minor Madrasah. Overnight at the hotel.
Duration of sightseeing tour: 3-4 hours
Day 9, Monday: Bukhara
Start the second day in Bukhara discovering Ark Fortress, Bolo-Khauz Mosque, Samani dynasty and Chashma-Ayub mausoleums. Then visit Sitorai-Mokhikhosa – summer residence of Bukhara's last emir, unique site combining Oriental and Russian architecture. Continue to Mausoleum of Bakhoutdin Naqshbandi and Chor Bakr necropolis. Enjoy free time in the afternoon. In the evening enjoy dinner and folklore show program at Nodir Divan-begi Madrasah. Overnight at the hotel.
Duration of sightseeing tour: 5-6 hours
Day 10, Tuesday: Bukhara – Khiva
In the morning depart Bukhara and drive to Khiva (480 km, 7-8 h.*). The Great Silk Road once routed through Bukhara and Khiva ran through the Kyzylkum Desert, as the present road does nowadays**. Stop en-route to enjoy views of the desert and Amudarya River.
Arrive in Khiva late in the afternoon, check in to the hotel. Time for rest. Overnight at the hotel.
*we advise preparing lunch-boxes for this trip.
**some parts of the road are presently being renovated.
Day 11, Wednesday: Khiva
Today you will visit Ichan-Kala Fortress which is a UNESCO World Heritage site. The tour features visits to Mukhammad Amin Khan Madrasah, Mukhammad Rahimkhan Madrasah, Kalta Minor, Juma Mosque, Toshkhovli Palace, Pakhlavan Makhmud Mausoleum. Try yourself at climbing Islom Khodja Minaret, the highest minaret in Uzbekistan. Enjoy breathtaking panoramic views of Old Khiva in Kunya-Ark.
Free time in the afternoon. Overnight at the hotel.
Duration of sightseeing tour: 5 hours
Day 12, Thursday: Khiva – Kunya-Urgench – Dashoguz – Ashgabat
In the morning drive to Turkmenistan border point Shavat-Dashoguz (60 km, 1 h.). Go through border formalities on both checkpoints. Cross 1.5 km neutral zone (transportation may not be available). Meet your Turkmenistan guide and drive to Kunya Urgench (100 km, 1 h. 30 min.). Visit mausoleums of Turebek-Khanym, Sultan Tekesh, Sultan Il Arslan, Najmad-din-Kubra, Sultan Ali. Discover the Kutlug Timur Minaret and Kyrk Molla Hill.
In the afternoon drive to Dashoguz airport (120 km, 1 h. 30 min.), take an evening flight to Ashgabat (580 km, 50 min.). Upon arrival transfer to the hotel. Overnight at the hotel.
Duration of sightseeing tour: 2 hours
Day 13, Friday: Ashgabat
Breakfast. Sightseeing tour in Ashgabat – capital of Turkmenistan, which has experienced boom of "Marble Architecture" for the past 15 years. Explore archeological site of Old Nissa (included in UNESCO World Heritage list) and Spiritual Mosque, one of the biggest mosques in Central Asia. Visit the National Museum of History, and continue to Arch of Neutrality. In the afternoon drive to "Bedev" hippodrome stables to see Akhalteke horses – pride of Turkmen nation. Continue the tour with visits to Presidential Square, Ertugrul Gazy Mosque, and the newly built Independence Park. During the sightseeing you will have a chance to take a picture of the Monument of Lenin. Free time in the afternoon. Overnight at the hotel.
Duration of sightseeing tour: 6 hours
Day 14, Saturday: Ashgabat – Baku
Transfer to Ashgabat International Airport for flight to Baku early in the morning. You will be met by our driver and transferred to hotel for overnight.
At noon, start sightseeing tour in Baku. Visit Memory Alley – "Shehidler Khiyabany", from where you can have a great panoramic view of Baku city. Continue touring new Baku and exploring architecture of XIX- XX centuries: Nizami Street, Fountain Square, Nizami Ganjavi monument, Rasul-Zade Street. Pay a visit to Azerbaijan History National Museum and move to the old part of the city – Icheri Sheher. Visit Maiden Tower, Shirvan Shahs' Palace, Caravanserai, and market square with numerous art studios and souvenir stalls. An excellent round-up to the city tour will be visit to the richest bank of Azeri carpets – National Carpets Museum. In the evening enjoy welcome dinner at Azeri restaurant. Overnight at the hotel.
Day 15, Sunday: Baku – Absheron Peninsula – Gobustan – Baku
Today you will visit the area of the Greater Baku and Absheron peninsula. Start with Gobustan National Park. Pay a visit to the Petroglyphs Museum and explore petroglyphs dating back to 10,000 BC. Continue to mud volcanoes in Gobustan Reserve. Gobustan is home to almost half of world's mud volcanoes. Later drive to Ateshgah – temple of fire worshippers located in Surakhany village. Zoroastrians from India travelled thousands of kilometers to Ateshgah to worship fire coming out of the earth. Drive to Yanardag Mountain with natural gas burning for several thousands of years.
Return to Baku. Overnight at the hotel.
Day 16, Monday: Baku – Lahij – Kish – Sheki
In the morning, depart Baku and drive to Sheki town. On the way, visit Diri Baba mausoleum in Maraza village. Continue to Shamakha and have a sightseeing of historical Juma Mosque, Yeddi Gumbez Mausoleum, and the Shirvan Shah's family grave yard. Drive through Girdimanchay River's canyon to visit Lahij, the 5th century place rich in its historic and architectural values. Lahij is an ancient village with charming eye-catching sidewalks inlaid by stones. It is famous for medieval water supply and sewage systems as well as traditional workshops making jewelry, copperware, carpets, pottery, daggers, and iron tools. Continue driving to Sheki. On the way, visit the first Albanian church in Caucasus in the village Kish dating back to the 1st century AD. Arrival in Sheki for sightseeing tour. Visit Sheki Khans Palace, local History Museum, handicrafts workshop, mosque-madrassah, and local bazaar. Overnight at the hotel.
Day 17, Tuesday: Sheki – Georgian border – Kvareli – Sighnaghi – Bodbe – Tbilisi
In the morning depart Sheki and head towards border with Georgia (115 km, ~2 h.). Cross the border, meet your Georgian guide and start exploring the Eastern part of Georgia famous for its viticulture and winemaking traditions.
We will pass through the beautiful landscapes of vineyards and wine-producing villages. First stop will be at unique wine cellar "Khareba" located in the tunnel carved out of the rock. Originally built for military purposes, today the tunnel is used to store Kakheti's finest wines. Wine tour and wine tasting. Continue to Bodbe Convent and Sighnaghi Royal Town, one of the crossroads of the Great Silk Road surrounded by defensive walls with 23 towers. In the afternoon, head to Tbilisi for overnight.
Day 18, Wednesday: Tbilisi
In the morning, have sightseeing tour in Tbilisi. Start at Holy Trinity cathedral, one of the largest orthodox cathedrals in the world. Continue to Metekhi church and monument to Vakhtang Gorgasali, the legendary founder of Tbilisi. Take cable car to Narikala Fortress to enjoy breathtaking panoramic view of the city. Walk down to the district of Sulphur bath houses passing by the only mosque in Tbilisi. Stroll through the Sharden area full of narrow streets with cozy cafés, wine tasting bars, souvenir shops, and breathe in the living past. Visit Sioni Cathedral, Anchiskhati Basilica, and the clock tower of famous Rezo Gabriadze Theatre. Cross the Bridge of Peace to Rike Park and head to Open Air Museum of Ethnography, a miniature model of Georgia. In the evening, visit a local restaurant to taste dishes of traditional Georgian cuisine. Overnight in Tbilisi.
Day 19, Thursday: Tbilisi – Jvari – Ananuri – Kazbegi – Gudauri
Your today's route will take over the Georgian Military Highway up North towards the border with Russia. First stop will be at Jvari Church, a true architectural masterpiece of the early Medieval Period overlooking the confluence of Aragvi and Mtkvari rivers from the top of the hill. Continue to Ananuri complex, a former residence of Argveti Dukes. Complex featuring churches and towers dating back to the XVI-XVII cc. is beautifully overlooking Jinvali reservoir. Drive further North to see the conjunction of two small mountain rivers famous for the fact that being different in color they still keep their own colors even after merge. We will then drive over the Cross pass and make a short stop at Soviet time "People's Friendship" mountain view point overlooking a deep gorge of Caucasus mountain range. In Kazbegi, we will change our vehicle to a four-wheel drive car to reach Gergeti Holy Trinity Church located on altitude of 2170 m, and enjoy breathtaking views of Mt Kazbegi. Drive to Gudauri. Overnight at hotel.

Day 20, Friday: Gudauri – Gori – Uplistsikhe – Mtskheta – Tbilisi
After breakfast, drive to Gori and visit Stalin Museum. The museum includes more than 60,000 artifacts, the tiny house where Stalin was born, and impressive bulletproof train Stalin used to travel to Yalta and Potsdam. Explore cave town Uplistsikhe dating back to Hellenistic Period and notable for unique combination of various styles of rock-cut cultures and the co-existence of pagan and Christian architecture. Continue to Mtskheta, one of the oldest towns and the cultural and religious centre of Georgia. Mtskheta was the capital of the Eastern Georgian Kingdom of Iberia from the third century BC. Visit Svetitskhoveli Cathedral which may be translated as "The Life-giving pillar". Svetitskhoveli is the main cathedral of Mtskheta and a sacred place where the robe of Christ is being kept. Reach Tbilisi for overnight at hotel.
Day 21, Saturday: Tbilisi – Armenian border – Haghpat – Lake Sevan – Sevanavank – Yerevan
At 09:00, our driver will meet you at your hotel in Tbilisi and transfer to "Sadakhlo-Bagratashen" Georgian-Armenian border point. Cross the border, meet your Armenian guide and driver and start the journey to the land of ancient traditions and oldest temples.
Drive to Lori region and visit UNESCO World Heritage Site Haghpat monastery. Stunning example of Armenian traditional architecture erected in 10-13th centuries. Standing on a hillside, Haghpat beautifully overlooks Debed River. Location of monastery was chosen to protect peace and seclusion of its monks. Drive through Dilijan to Lake Sevan, "The Jewel of Armenia" and one of the largest high-mountainous fresh water lakes in the world. The coastline of Lake Sevan is rich with thick woods, white bare steep rocks, mountain steppes and Alpine meadows. Stop at Sevanavank to visit the remnants of the monastery that include two temples – Surb Arakelots and Surb Astvatsatsin standing among numerous khachkars. The buildings were constructed from black tuff which probably gave the monastery its name Sevanavank – "the Black Monastery". The view from there is simply magnificent: the mountains surround lake from all sides and snow tops are seen almost on the entire perimeter and disappear behind horizon. Continue to Yerevan for overnight.
Day 22, Sunday: Yerevan – Garni – Geghard – Vernisage – Etchmiadzin – Yerevan
Depart Yerevan and drive to Garni, one of the major villages in Armenia famous for its fortress. The fortress is the only pagan sacred place from the 1st century that survived aggressive introduction of Christianity in the 4th century. Next stop is at the monastery complex Geghard ("spear"). A beautiful landscape of Geghard is framed with towering cliffs. Decorative art cut into rocks reflect and explain Medieval Ages development throughout the region. The complex was introduced to the history in the 4th century as a sacred spring inside a cave. Visit Vernissage, the biggest souvenir market in Yerevan. Continue to the Holy See of Armenia, Etchmiadzin. Visit Etchmiadzin Cathedral* which is the residence of the head of Armenian Apostolic Church the Catholicos of All Armenians. Return to Yerevan for overnight at the hotel.
* The site is currently under renovation works.
Day 23, Monday: Yerevan – Khor Virap – Areni – Noravank – Yerevan
In the morning, head to Khor Virap monastery ("deep pit"). According to the legend, St. Gregory the Illuminator, the Baptist of Armenia, had been kept here in the basement during 13 years for the disseminating of Christianity until tsar Tradt decided to adopt new religion. Monastery location allows you to enjoy the best views of the Mount Ararat. Continue to Complex of Noravank, situated on a ledge of a deep winding gorge of a tributary of the Arpa River near the village of Amaghu, Yeghegnadzor District. Noravank ensemble stands amidst the bizarre-shaped precipitous red cliffs. Built in place of an ancient cloister, it grew in the reign of Princes Orbelian of Syunik. In the 13th-14th centuries it became a residence of Syunik's bishops. Consequently, a major religious and later cultural center of Armenia was closely connected with many educational institutes, primarily with Gladzor's university and library. Drive back to Yerevan. Stop on the way at Areni, a city known for producing famous Armenian wine from pomegranate and apricot. Have a wine degustation in a local winery. Overnight at the hotel.
Day 24, Tuesday: Yerevan
One of the oldest cities of the world, Yerevan is famous as a pink city and calls visitors with its humble and at the same time splendid landscapes. Start city tour visiting Cascade Monument which was the main symbol of the cities 2780th anniversary with the equivalent number of stairs. Mega scale staircase is 500 meters high and 50 meters wide. A panoramic view from the monument opens up breathtaking city view with Opera House, Mount Ararat, Swan Lake, Republic Square, and Abovyan Avenue, which you will also walk by during the tour. Continue to the Armenian Genocide memorial complex on the hill of Tsitsernakaberd. An excellent round-up of the tour will be a visit to the Megeryan carpet factory where you can observe a process of creating famous Armenian rugs. You will see carpets from different regions of Armenia and find out about hidden meanings of elements used in their design. In the evening, enjoy farewell dinner and traditional folklore show. Overnight at the hotel.
Day 25, Wednesday: Yerevan – departure
Check-out from hotel till noon. Free time till transfer to Yerevan International Airport. End of the tour.
Accommodation:
| | | |
| --- | --- | --- |
| City | Economy Hotels | Number of nights |
| Almaty | | 1 |
| Bishkek | | 2 |
| Tashkent | | 2,5 |
| Samarkand | | 2 |
| Bukhara | | 2 |
| Khiva | Malika Kheivak, Orient Star, Malika Khiva, Old Khiva | 2 |
| Ashgabat | | 2 |
| Baku | | 3 |
| Sheki | Issam | 1 |
| Tbilisi | | 3 |
| Gudauri | Marco Polo, Goodaura, Carpe Diem | 1 |
| Yerevan | Silachi, Hrazdan, Cascade | 4 |
Price includes:
All transfers: 3-7 pax on minivan/van, 8-13 pax by 20 seat bus;
Accommodation based on double/twin room sharing, breakfasts included;
Sightseeing tour program with a local English speaking guide in each country (NB in Uzbekistan there will be different guides in each city);
Entrance fees to sights as per itinerary;
Economy class tickets for flights Almaty-Bishkek-Tashkent, Dashoguz-Ashgabat;
Economy-class ticket for train Tashkent-Samarkand;
Visa support for Uzbekistan, Turkmenistan tourist visas;
Azerbaijan tourist e-visa;
Dinner with folklore show program at Nadir Divan-Begi Madrasah in Bukhara (day 9), dinners in Baku (day 14), Tbilisi (day 18), and Yerevan (day 24);
Wine tasting in Kakheti region (Georgia) and Areni wine factory (Armenia);

Price does not include:
Tour leader to accompany the travelers for the whole period of the tour;
Full board (lunches and dinners);
Hotel charges for additional services;
Consular fees for all tourist visas and support letters for Kazakhstan, Kyrgyzstan, Georgia, and Armenia visas; Turkmenistan migration tax ($12);
Personal travel insurance;
Ashgabat-Baku flight ticket.