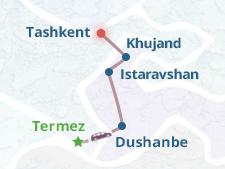 Visit Tajikistan – an eastern country of ancient traditions, located in the Pamir foothills. During the five-day tour to the Tajik ancient and modern attractions, you will find yourselves in the atmosphere of colorful and bustling oriental bazaars (including Payshanba bazaar- the largest market in the whole Tajikistan), visit the ancient palaces and majestic fortresses, and enjoy special architecture of mosques and mausoleums - skillful creation of architects of the past centuries. The tour will be also best remembered for the visit to Ura-Tyube - one of the Central Asian oldest cities, sprang up more than 2,500 years ago.
Tour itinerary:
Day 1: Termez – Sariosiyo BP – Dushanbe
Meeting at Uzbek-Tajik border "Sariosiyo". Transfer to Dushanbe (80 km, 2h.*). On the way, visit the Hissar Fortress (18th c), which is located 30 km west of Dushanbe. Beside the fortress, there are two Madrasahs (18th and 19th cc) and one mausoleum of 16th century. Overnight at the hotel.
Duration of sightseeing tour: 1-1.5 hours
*The drive on vans and buses is on average an hour longer.
Day 2: Dushanbe
Start sightseeing in the capital of Tajikistan. Visit Botanical garden- very beautiful garden with many old trees is the favorite place of Tajik people, Tajikistan United Museum (closed on Mondays) that includes the exhibits on history, natural history and art (Buddha in Nirvana is one of the valuable exhibits of the museum), Samani Monument, the Building of a national spirit, Stroll Rudaki Prospect and the Main Mosque of Dushanbe. Overnight at the hotel.
Duration of sightseeing tour: 5-6 hours
Day 3: Dushanbe – Istaravshan – Khujand
In the morning depart Dushanbe and drive to Khujand (250 km, 5-6 h.). Drive through Anzob tunnel. Lunch at local Chaihana. In the afternoon drive through Shakhristan tunnel with stop in Istaravshan. Visit a local bazaar; Hazrat Shah architectural complex, which consists of Hazrat Shah Mausoleum, the grave of brother of Kusam ibn Abbas, Khudayar Valami Mausoleum, and Namazgah Mosque dating back to 19 C. Continue to Mug Teppe, one of the ancient settlements located in Ura-Tube. The city is believed to be founded by King Cyrus in the North-East boundary of his empire. Arrival in Khujand. Free time. Overnight at the hotel.
Duration of sightseeing tour: 1.5-2 hours
Day 4: Khujand
In the morning sightseeing Khujand. Visit the Museum of Archeology and Fortification, Shaikh Muslihiddin Mosque, and the Payshanba Bazaar, the biggest bazaar in Tajikistan, Arbob Palace named after S. Urunhodlaev (20th c), "Tajik Sea" Kayraccum HPS (Hydro Power Station) - the symbol of People's Friendship, built in 1968. Free time. Overnight at the hotel.
Duration of sightseeing tour: 6 hours
Day 5: Khujand – Oybek BP – Tashkent
After the breakfast transfer to Tashkent (80 km, 1 h 30 min), through Oybek cross border point. End of the tour.
Accommodation:
City

OPTION
Comfort

Number of nights

Dushanbe

Sheraton Dushanbe

2

Khujand

Khujand Grand Hotel & Khujand Delux

2
Price includes:
All transfers;
Accommodation based on double/twin room sharing, breakfasts included;
Tour leader to accompany travellers for the whole period of the tour;
Entrance tickets to sights as per itinerary;
Visa support for Tajikistan tourist visa.
Price does not include:
Hotel charges for additional services;
Full board (lunches and dinners);
Border pass;
Consular fees for Tajikistan tourist visa;
Personal travel insurance.