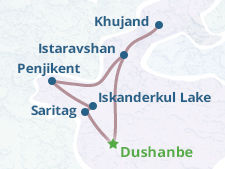 6-day tour in Tajikistan is an excellent choice for those who wish to learn more about the multi-faceted culture and the history of the Tajik people.
The trip will start in the capital of the country – Dushanbe. There you will experience of the modern life of Tajikistan, and discover many interesting facts about the history of the region after visiting the Museum of Antiquity.
Later you will have a trip to the Hissar fortress (18th century) after which it will proceed towards Istaravshan. This colorful city has a special oriental spirit – take a walk along the local bazaar, pay a visit to religious monuments and experience the ancient town of Mug-tepa.
After that, you will meet the old city Penjikent and its sights dating back to the 5-8th centuries. Lake Iskanderkul, that took its name after Alexander the Great, will conclude your tour. You will spend your night in the village of Sarytag where you will have an opportunity to meet the locals. The return trip to Dushanbe will pass through mountains with another overnight.
Tour itinerary:
Day 1: Arrival in Dushanbe
Arrive in Dushanbe in the morning. You will be met by Advantour driver and transferred to the hotel. Start city tour in the capital and the biggest city of Tajikistan. Visit Tajikistan National Museum of Antiquities, where the famous statue of Buddha in Nirvana is preserved. Continue to Botanical garden, where locals love spending leisure, and to local bazaar. Drive out of the city (30 km) to the remains of Hissar Fortress of 18 С. Visit two local madrasas and a mausoleum. Return to Dushanbe. Overnight at the hotel.
Day 2: Dushanbe – Istaravshan – Khujand
In the morning depart Dushanbe and drive to Khujand (300 km, 5-6 h.). Drive through Anzob tunnel. Lunch at local Chaikhana. In the afternoon drive through Shakhristan tunnel with stop in Istaravshan. Visit a local bazaar, Hazrat Shah architectural complex, which consists of Hazrat Shah Mausoleum, the grave of brother of Kusam ibn Abbas, Khudayar Valami Mausoleum, and Namazgah Mosque dating back to 19 C. Continue to Mug Teppe, one of the ancient settlements located in Istaravshan. The city is believed to be founded by King Cyrus in the North-East boundary of his empire. Arrival in Khujand. Free time. Overnight at the hotel.
Day 3: Khujand – Penjikent
Drive to Penjikent (260 km, 5-6 h.). Arrival and accommodation at the hotel. Meet you guide for sightseeing program: Museum of Rudaki – As Penjikent is a birthplace of Abu Abdallah Rudaki, considered by many to be the father of Persian Poetry. Ancient Penjikent - ruins of old Sogdian town founded in 5th century and abandoned in the 8th century by Arabs. Foundations of houses, a citadel with a couple of Zoroastrian fire temples and city bazaar are visible in the excavated ruins. Overnight at the hotel.
Day 4: Penjikent – Iskanderkul – Saritag
Drive to Saritag via Iskanderkul (240 km, 6-7 h.).According to the legend, the Lake Iskanderkul was named after Alexander the Great, known as Iskander in the East. People say that Alexander the Great's path to Central Asia from India laid through this lake. Arrival and accommodation at guest house. Overnight at guest house.
Day 5: Saritag – Dushanbe
Drive to Dushanbe (160 km, 3-4 h.). Arrival in Dushanbe. Free time. Overnight at the hotel.
Day 6: Dushanbe – departure
Check-out from the hotel at noon. Free time until transfer to Dushanbe Airport. Departure. End of the tour.
Accommodation:
| | | | |
| --- | --- | --- | --- |
| City | Comfort | Economy | Number of nights |
| Dushanbe | Sheraton Dushanbe | Lotus | 2 |
| Khujand | Grand Hotel, Khujand Delux | Vatan, Khujand Delux | 1 |
| Penjikent | Sugd | Sugd | 1 |
| Saritag | Guest house | Guest house | 1 |

Price includes:
All transfers;
Accommodation based on double/twin room sharing, breakfasts included;
Full-board;
Service of an English-speaking guide;
Entrance fees to sights as per itinerary;
Visa support for Tajikistan tourist visa.
Price does not include:
Hotel charges for additional services;
Consular fees for Tajikistan tourist visa;
Personal travel insurance.