Turkmenistan

Turkmenistan - Travel Guide
Turkmenistan is a republic in Central Asia. The geographical position of the Republic is more advantageous than that of its neighbors due to the outlet to the Caspian Sea. However, one can also see sandy deserts with barchans when traveling far inland. Turkmenistan is the country of deserts and oases as well as unique historical and cultural traditions. The most ancient civilizations of the world prospered on its territory. Turkmenistan is definitely the country of contrasts, especially today, when the cities of the republic have completely changed and become more similar to European mega cities. But despite all the changes their Oriental character has been preserved in special architecture, decoration of buildings, numerous mosques and ancient monuments.
A Central Asian state - Turkmenistan borders on Uzbekistan in the north and east, with Kazakhstan - in the north, in the east and the south it borders on Afghanistan, in the south -on Iran. From the west the country is washed by the waters of the Caspian Sea. The general length of the border is 3,736 km, the length of the sea line - 1,768 km. Turkmenistan possesses are rich in oil, gas, potash and rock salts, non-ferrous and rare earth metals. It is one of the richest states in terms of gas and oil deposits. At the same time the history of the country's independence is very short. The country's capital is Ashgabat, other major cities -Turkmenbasi, Mary, Turkmenabad, Dashoguz.
Turkmenistan is a neutral. Turkmenistan is ruled by the republican government. The president is the head of the state and executive branch. The head of the government is the prime minister. The legislature belongs to the Parliament - the Public Assembly (Khalk Medzhlis).
All in all it creates the unique image of the country existing on a juncture of epochs organically combining both the past and the future. The capital of Turkmenistan is Ashgabat which means "the city of love" and Persian language - an oasis created by people loves hands among sands and mounts. Ashgabat is a city of blossoming parks, masterpieces of architecture, sculptures, tremendous fountains, museums and monuments.
It's really impossible to list all possible excursion routes across Turkmenistan. Its territory is abundant in rare ancient monuments which have survived from ancient times. The legendary Nissa -the residence of Parthian kings, the medieval city of Enev are among them. If you travel deeper inland you'll have a chance to see the remains of the ancient city of Merv.
Besides numerous antiquities Turkmenistan has a variety of unique natural landmarks: underground lakes, high mountain tops, deep crevices, paradise-like places high in the mountains are similar to none.
Only in such wonderful country as Turkmenistan you will have a chance to taste original Turkmen delicacies from fresh mutton cooked on saxaul fire wood, to see the world-known Akhaltekin racers, the legendary handcrafted Turkmen carpets, to become an eyewitness of national rituals!
10 Things to Do In Turkmenistan
Cities of Turkmenistan
Ashgabat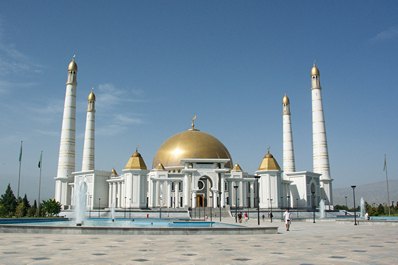 Ashgabat is located in a picturesque valley at the foothills of Kopet Dagh. It emerged in 1881 first as military fortress not far from a village bearing the same name. In 1885 a railway was built that reached the area. As a result, it turned into a small town. The brightest page of Ashgabat's history was the fall of Geoek-Tepe fortress during the aggressive colonial war with Russia. Until 1919 the city was known as Askhabat. In 1921 the city was renamed Poltoratsk. In 1927 the old name in a new transcription -Ashkhabat ("the city of love") was returned to the city. In the 90s there was another transcription - Ashgabat...
More about Ashgabat
Turkmenabad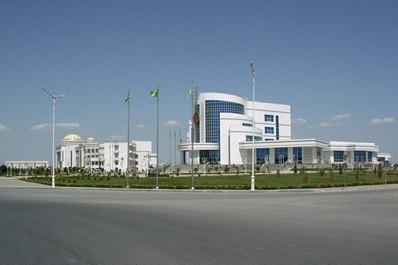 Turkmenabad is the center of the eastern part of Turkmenistan and the second-largest city in terms of population. It is located on the banks of the Amu Darya River . Long time ago the fortress of Bukhara emirate called Chardzhui (the four canals) used to stand there. It guarded the Amu Darya crossing from the attacks of nomadic tribes. In 1886 when trans-Caspian Railway reached the fortress it grew first into a military and then into civilian settlement...
More about Turkmenabad
Mary
Mary is the third largest city of Turkmenistan . It is located in a big oasis in the middle of the Kara Kum Desert . Mary was founded in 1884 as a Russian military administrative center 30 kilometers from ancient Merv (by the way until 1937 Mary was called Merv). Today it is a major center of cotton industry, large traffic point and the main center of gas industry which brings the most revenues to Turkmenistan treasury. The most interesting places in the city are the History Museum with a rich collection of artifacts, Turkmen carpets, national costumes and silver. ...
More about Mary
Dashoguz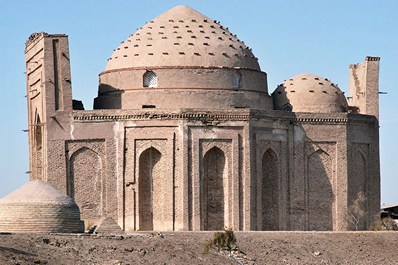 Mary is the third largest city of Turkmenistan . It is located in a big oasis in the middle of the Kara Kum Desert . Mary was founded in 1884 as a Russian military administrative center 30 kilometers from ancient Merv (by the way until 1937 Mary was called Merv). Today it is a major center of cotton industry, large traffic point and the main center of gas industry which brings the most revenues to Turkmenistan treasury. The most interesting places in the city are the History Museum with a rich collection of artifacts, Turkmen carpets, national costumes and silver. ...
More about Dashoguz
Turkmenistan Useful Links
Turkmenistan: the Golden Age Online Newspaper
MFA of Turkmenistan
Information on Turkmenistan from the U.S. Department of State