May 10, 2012
Category
:
Trains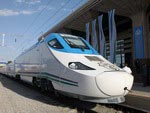 Given the popularity of railroad Tashkent-Samarkand-Tashkent route at the height of tourist season, the management of Uzbek Railways decided to increase Afrosiyob high-speed train running frequency on this route.
Starting May 2012 Afrosiyob train is running twice a day on Fridays, Saturdays and Sundays. On other days the train will run once a day as before.
To be noted, Afrosiyob train departs from Tashkent at 08:00 and arrives in Samarkand at 10:30. It sets off to return trip at 17:00 and arrives in Tashkent at 19:38.