June 9, 2012
Category
:
Flights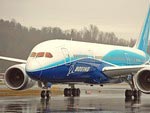 Uzbekistan is expected to receive first Boeing 787-8 Dreamliner airjets in 2014 to 2016.
The Boeing 787 Dreamliner is a new generation wide-body and twin-engine jet airliner developed by Boeing Commercial Airplanes together with a number of foreign companies, including Russian ones. Boeing-787-8 is available in three versions, has a maximum flying range of 15,700 km. The liner is 62.8 meters long and 16.9 meters high. Maximum number of passengers varies from 250 to 330 people.
In addition to fuel efficiency, as measured by almost 20%-s reduction in fuel consumption compared with other models of aircraft, Boeing 787 features enhanced comfort and reliability. In the Boeing-787 passenger seats are more spacious, windows are increased by 30%, light intensity is regulated depending on daytime, there is automatic control of humidity, air pressure in the cabin, there are carbon air filters. The noise level in the liner is 60% lower than in other models of aircraft, and Boeing-787's range of non-stop flight can reach up to 16 hours.
Purchase of Dreamliners will allow the Uzbekistan Airways national airline remain one of the most competitive and popular airlines in Uzbekistan.