July 20, 2012
Category
:
Flights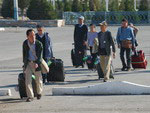 Now the air carrier will be responsible not only for the carriage of passengers, but also for successful shipping of their luggage. The corresponding Law "On amendments and additions to the Air Code of the Republic of Uzbekistan" has already been sent for approval in the Senate and is aimed at bringing the activity of Uzbekistan aircompanies, in particular O'zbekiston Havo Yullari national aircompany, in the conformity with international standards.
Under the proposed changes, in accordance with the requirements of the Warsaw Convention, any unclaimed luggage will be transferred to the airport service to be stored at the expense of the carrier. The search of the luggage owner and the luggage delivery will also be carried out at the carrier's expense. If the luggge owner is not found within 3 months, the luggage will be destroyed. Unclaimed luggage delivered by a foreign airline to be kept at the airport will be stored for not more than 7 days and then it will be sent back to by the foreign air carrier that delivered it. Perishable contents of unclaimed baggage will be destroyed at the first sign of damage.
According to international statistics, over than 70,000 travel bags are lost daily during the flights. According to a study by the Flight Center published in July 2012, in 2011 the airlines lost 20% more luggage than during 2010. The main reason for this hideosity, according to the air companies, is a very short time for loading and incorrect filling of the labels. Over the half of the loss occurred in the connection flights or changing planes. Fortunately, according to the same survey, 99% of luggage is returned to the owners. Less than a month ago Russian carriers, also concerned with the problem of lost luggage, decided to install a special chips on the bags with the data about the owner and flight number. The chip system is working in test mode, it effectiveness will show whether it will be applied at all airports in Russia in the future.