July 20, 2012
Category
:
Holidays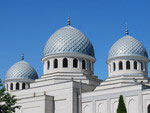 July 20 is the first day Uraza - the sacred fasting for Muslims. According to Muslim tradition, in the holy month of fasting, from sunrise to sunset, abstinents should not take food and water. They should avoid bad thoughts, treat others respectfully and do good.
Fasting is mandatory for every Muslim and helps to strengthen their faith and teaches self-discipline. Seriously ill persons, children, travelers are allowed not to fast.
Traditionally, a holiday Ramadan Khaiit is organized on the last day of fasting. It lasts three days. The first day of Ramadan Haiit in Uzbekistan is an official day off.