August 10, 2012
Category
:
Uzbekistan Railways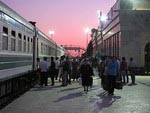 Currently, Uzbek Railways is getting ready for the autumn tourist season.
Thus, according to the main railway carrier of the country, from August, 14th 2012, the running of the fast train # 70/69 Tashkent - Bukhara and the train # 71/72 Bukhara - Urgench will be resumed.
From Tashkent the train will depart every Tuesday at 22.30, further from Bukhara - every Wednesday, from Urgench - every Thursday and from Bukhara - every Sunday. Now, the accurate train schedule is under adjustment.