August 14, 2012
Category
:
Nurata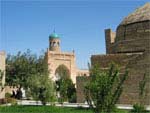 Over 50,000 tourists out of which 2,000 foreign ones, have visited the «Chashma» Memorial Complex, the main Nurata sanctuary.
Owing to laborious work of the historians, archeologists and builders the initial image of the Chil Ustun mosque of the twentith century, Kuk Gumboz mosque of the sixteenth century was restored , the Complex territory was developed and the access ways were widened.
Special attention was given to the Local History Museum located at the Complex territory. The Navoi Regional Khokimiyat (Town Hall) allotted 17 million UZS for its building basic repair. The renewed expositions present unique artifacts of antique anciently of feudal Middle Ages and the great present of Uzbekistan. Very soon the list of the Nurata facilities available to receive foreign guests will be added with the buildings of public baths and Domallya mosque XV, anons.uz reports.