August 23, 2012
Category
:
Festivals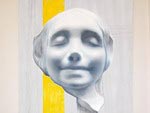 On a hot August evening an opening of the V Festival of Traditional and Modern Art of Uzbekistan "Navkiron Uzbekiston-2012" took place in Tashkent. This event is held once every 2 years in a biennial format covering the creative youth from all parts of the republic. Any student or graduate of Arts institutions in the age of 17 to 35 may become a participant of the Festival. The name of "Navkiron Uzbekistan" itself is translated as "Young Uzbekistan".
This year on 22 August over 2,500 works of 350 young artists of Uzbekistan in various art forms: painting, folk crafts (carpet weaving, wood engraving, ceramics and jewelry), sculpture, video-art, scenography, performance and so on can be seen in the Exhibition. The abundance of forms and methods of expression will not leave indifferent even the most inexperienced person in the Arts.
Beginning from the year of 2004, the Festival "Navkiron Uzbekiston" showed an excellent dynamics of its development: the number of participants, the number of works and their quality and of course the quantity of the judges of the Modern Art of Uzbekistan are increasing.
Within two weeks of the Festivals various master-classes to be given by leading artists of Uzbekistan, reviews of the works presented and other events directed to the deeper perception of the Modern Art are planned. The slogan itself makes you understand its main purpose – "Navkiron Uzbekiston" is a modern idea of the traditional arts of Uzbekistan". Solemn awarding ceremony of the best works of the Festival is planned for the first days of September. Now the Palace of Youth Creativity is open for everybody for several days: the Festival exhibition does have much to look at.