Policy and State Structure of Uzbekistan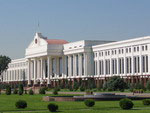 In accordance with the Constitution, adopted on December 08, 1992, the Republic of Uzbekistan is the sovereign, democratic, law-governed state with Presidential form of government
President
The head of the state is the President, elected by public elections of citizens. The Constitutional Presidential term is five years. The current President of the Republic of Uzbekistan is Islam Karimov (since 1990)
Executive authority
Executive authority belongs to the government of Uzbekistan – the Cabinet of Ministers. Its members are appointed by the President and approved by Oliy Majlis.
Legislative authority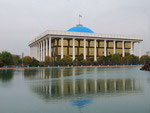 The Superior legislative body – Oliy Majlis – consists of two chambers: Senate and Legislative Chamber.
Senate consists of 100 representatives. 16 of them are appointed by the President, 84 are elected by deputies of regional and local authorities.
The Legislative Chamber consists of 120 representatives, elected by public elections on five-year term.
Judicial authority
The judicial authority of the republic includes such highest instances as the Superior Court, Constitutional Court, Superior Economic Court, Superior Arbitrage on economic matters, Superior and Economic court of the Republic of Karakalpakstan, and also the network of regional and city courts.
Administrative structure
Uzbekistan is divided into 12 provinces (viloyats):
- Andijon Viloyati
- Bukhoro Viloyati
- Jizzax Viloyati
- Ferghana Viloyati
- Samarkand Viloyati
- Surxondaryo Viloyati
- Sirdaryo Viloyati
- Navoiy Viloyati
- Namangan Viloyati
- Xorazm Viloyati
- Qashqadaryo Viloyati
- Tashkent Viloyati
Autonomous Republic of Karakalpakstan and capital city Tashkent also have the detached status.
Internal Government
Internal government includes khokimiyats. Candidates of khakims are appointed by the President and approved by local representatives of elective body. The Republic of Karakalpakstan has own Council of Ministers.