Juma Mosque - "Tsar's" Mosque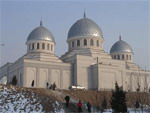 Originally the building of Juma Mosque was built in 1451 at the expence of sheikh Ubaydulla Khoja Akhror - the great Sufi, the descendance of the prophet Mukhamad.
In XIX century the mosque was heavily destroyddamaged by destructive earthquake. But it was reconstructed by the order of Russian Impirer Alexandr III, who in 1888 allocated money from his own treasury for resconstruction and restoration f the mosque. Thus since that time the mosque has the second name - Tsar's Mosque.
However time didn't spare even the reconstructed mosque. The ruins of this mosque were leveled to ground in 1997, and new building of mosque was erected on the same place - next to the madrassah Kukeldash - in the old part of the city. And today the mosque has not one but three domes. By the way this is the third largest Friday mosque in Uzbekistan. It yields only to two constructions of similar type - Bibi Khanym in Samarkand and Kalyan Minaret in Bukhara.
Tashkent