St. Sargis Church, Yerevan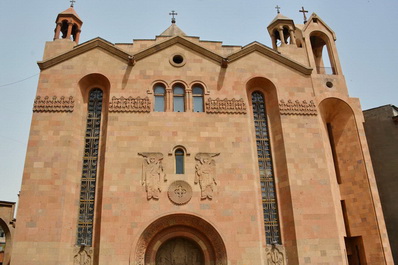 From the times of early Christianity right across Erebuni fortress there was a monastery which comprised the churches of St. Sargis, St. Gevork, and St. Akop. St. Sargis church as well as the entire monastic complex were totally destroyed by 1679 earthquake and was completely restored on the same site in the 17 th – early 18 th centuries. However, St. Sargis church was constructed anew in 1835-1842. Its architectural design was the most unattractive of all churches in Yerevan.
Its appearance and internal decoration mismatched its purpose - a suffragan church of Ararat Patriarchal diocese. In 1972 the works on its fundamental reconstruction began. The old building of the church has almost completely survived but all facades were covered with orange tuff and finished in a modern way. In 1971-1976 the interior was restored, in 2000 the tall belfry was erected. The works related to the reconstruction of St. Sargis were done on the donations of Armenian philanthropists from London which is proved by the wall inscription.