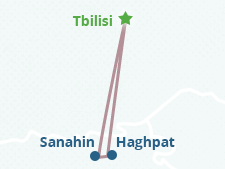 Take a short day trip from Tbilisi to Armenia, the first state in the world where back in year 301 the Christianity was announced an official religion. Its cultural and architectural impact is vividly seen on a great amount of ancient monasteries. Present tour opens up Haghpat and Sanahin monasteries. Gems of Armenian architecture date back to the 1st millennium A.D and included in the UNESCO World Heritage List. Moreover, one of them is still an acting monastery. You will also enjoy traditional Armenian cuisine and fall in love with it.
Tour Itinerary:
Tbilisi – Haghpat – Sanahin – Tbilisi
At 09:00, our driver will meet you at your hotel in Tbilisi and transfer to "Sadakhlo-Bagratashen" Georgian-Armenian border point. Cross the border, meet your Armenian guide and driver and start the journey to the land of ancient traditions and oldest temples.
Drive to Lori region and visit UNESCO World Heritage Sites Haghpat and Sanahin* monasteries. Two stunning examples of Armenian traditional architecture were erected in 10-13th centuries. Standing on a hillside, Haghpat beautifully overlooks Debed River. Location of monastery was chosen to protect peace and seclusion of its monks. The complex consists of several structures. The biggest one is the Cathedral of Surb Nishan with beautiful fresco depicting Christ Pantocrator.
Continue to the 10th century Sanahin monastery (15 km, 15 min) famous in Middle Ages for its calligraphy and illumination school. The name of Sanahin can be translated as "this one is older than that one" presumably meaning that Sanahin was built earlier than its neighbor Haghpat. There are numerous khachkars (Armenian cross-stones) on territory of monasteries dating back to 11-13 centuries. Both Haghpat and Sanahin were important educational centers of medieval times.
After sightseeing, enjoy delicious lunch at a local restaurant. You will have a chance taste traditional local dishes and get an insight to Armenian cuisine.
Cross the border back to Georgia, meet your driver and head back to Tbilisi. Drop-off at your hotel.
Tour duration: 10-12 hours.
* The site is presently under renovation works.
Visa to Armenia is not required for citizens of EU, US, Australia, Brazil, and number of other countries. For those who need visa there is a visa issuance facility at the border. For more information, please contact us.
Price includes:
1. All transfers as per itinerary;
2. Sightseeing tour program with local guide;
3. Entrance fees to sights as per itinerary;
4. Lunch at traditional Armenian restaurant.