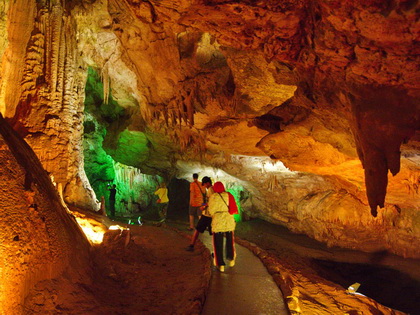 Day Trip to Prometheus Сave is an unforgettable journey to the ancient capital of Colchis and Kingdom of Imereti. The spectacular coloured lighting, combined with soft classical music, evokes a beautiful and mysterious atmosphere. The last part of the trail through the cave can be travelled on foot or on a boat along the underground river, Kumi. Prometheus Сave is a best site for selfies!
Tour itinerary:
At 08:00, we will start our journey to Western Georgia (250 km, 4 hours). The road will take you over Rikoti pass and through the longest tunnel in Georgia (1,722 m). The tunnel is also considered as a border between Western and Eastern parts of Georgia.
We will visit Prometheus cave where you will walk in 1.5 km long tunnel to enjoy breathtaking views of stalactites, stalagmites, petrified waterfalls, underground rivers, and lakes along the cave. Underground light system filled with LED lights of all rainbow colours marvellously highlights natural beauty of Prometheus cave.
Drive back to Tbilisi, end of the tour.

Tour includes:
Transportation;
Group tour in the cave with an English speaking guide;
Entrance tickets Prometheus Cave;
Bottled water (0,5l per person).