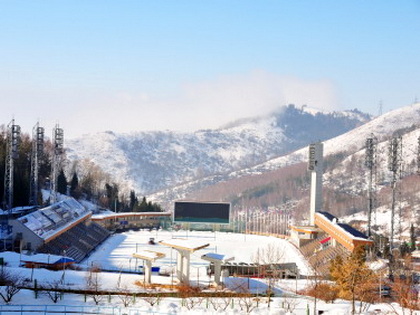 If you have one free day in Almaty, you can enjoy a day tour that includes a visit to "Chimbulak" ski resort, "Medeo" mountain skating rink and the Kok-Tobe. During the tour you will enjoy stunning views of the Tian Shan Mountains, you will see a huge dam that protects Medeo from mudflows and you will ride a cable car.
Tour itinerary:
Your guide and driver will meet you at the hotel lobby in Almaty to start the tour. Depart Almaty and drive to Medeo Gorge. Visit the huge Medeo dam, that protects the city from destructive mudflows formed on the tops of the western Tian Shan mountains. From the top of the dam, at the altitude of 1733 meters above the sea level, enjoy view of the largest high mountain skating rink in the world – Medeo, surrounded by marvelous mountains of Trans-Ili Alatau. From Medeo, take a ride to the mountain ski resort Chimbulak and then up to the Big Talgar pass (3200 m above sea level) by the cable car. Enjoy amazing views of the snow peaks and the Tian Shan mountains glaciers. After that visit the top of Kok-Tobe hill, where you can enjoy unforgettable panorama of Almaty from the observation desk. At the foot of the tallest TV tower in Kazakhstan you can take a walk along the winding paths of the Kok-Tobe park, where you will come across "The Beatles" monument devoted to the popular Liverpool band. At the end of the tour take a short ride from the hill to the city center by the cable car. Transfer to the hotel. End of the tour.
Duration: 4-5 hours
Price includes:
Guided sightseeing tour;
Ticket to the cable car;
Transport throughout the tour.