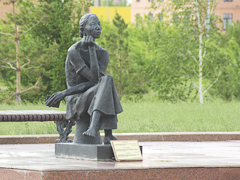 Bright pink flamingos may not be the first image that comes to mind when you picture Kazakhstan, yet this is exactly what you'll discover at Korgalzhyn Nature Reserve near Nur-Sultan. This national park, exceeding half a million hectares and inscribed as a UNESCO World Heritage Site, is home to more than 300 species of wildlife, including many endangered species and the world's northernmost flock of pink flamingos. Not far from this slice of paradise lie the sombre remains of ALZHIR, a concentration camp that housed as many as 20,000 women and children during the USSR. In 2007 a memorial complex was opened where the camp once stood, and today it serves as a grave commemoration of those who suffered under Stalinist repression. The ALZHIR and Korgalzhyn Nature Reserve Tour admires the beauty of Kazakhstan present while honouring those who faced hardships in Kazakhstan past. Your guided tour will take you to Kazakhstan's largest national park for exploration and sightseeing before continuing to the ALZHIR Memorial Complex, where history will be brought to life through photos and life-size replicas from that tragic era.
Tour Itinerary:
Leave Nur-Sultan at 6:00 am, driving southwest to Korgalzhyn Nature Reserve (130km, 2hrs), a UNESCO World Heritage Site established in 1968. Upon arrival, tour the Birds of Paradise Visitor's Centre, an informative complex that includes a winter garden, Hall of the Steppes and History and Ethnography Hall. You will also have a chance to watch the 20-minute film "Mystery of Protected Lands". Continue exploring the park with a guided tour along some of its many eco-routes, where you may be privileged to spot the Siberian white crane, the Dalmatian pelican, Pallas's fish eagle and other rare birds.
Transfer to the ALZHIR Memorial Complex (95km, 1,5 hrs), site of a concentration camp that was built in the middle of the vast Kazakh steppe. Completed in 1938, it functioned as a women's prison for 15 years until Stalin's death in 1953. The grounds include replicas of barracks, a watch tower and a train car used to transport the women, as well as the Arch of Sorrow Memorial, a small museum and a short informational film.
In the afternoon, return to Nur-Sultan for drop-off at your hotel.
Tour Duration: 9-10 hours
- Recommended gear for tour: sunglasses, hat, raincoat and waterproof shoes or sneakers;
- Please be advised that terrain in the reserve is rugged and Soviet off-road jeeps (usually Vas Niva provided by the reserve) will take you around Korgalzhyn Nature Reserve;
- If adverse weather conditions occur, guides reserve the right to adjust the route in order to ensure the safety of tourists, as vehicles can get stuck in the mud during heavy rains;
- You will be observing the birds and animals from a distance, with binoculars provided by the guide. Moreover, there is a chance you will be unable to see the birds or animals in bad weather, as they hide in and around the reserve's lakes;
- Flamingos can be seen from the end of April till October; gophers and saiga antelopes from May till July.
Price includes:
Transportation;
Services of an English-speaking guide;
Lunch;
Entrance fees and ecological tax.
Please note! The ALZHIR and Korgalzhyn Nature Reserve Tour is available from Thursday to Sunday between May and September.