Advantour Team: Bishkek Office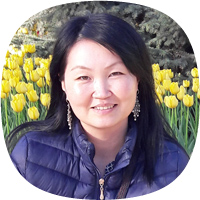 Zamira Imanalieva
Director
Zamira graduated from the Faculty of Tourism Management at Bishkek Humanitarian University and before joining Advantour in 2007 she had already acquired an immense working experience in the sphere of tourism. It is worth noting her experience with the international project Destination Marketing Organization whose purpose was to develop the field of tourism in Kyrgyzstan.
Zamira speaks Russian, Kyrgyz and English. Heading the Advantour office in Bishkek, she manages the company and the personnel very well, draws up tours, programs, counts tour calculations, corresponds with clients and keeps finance reports.
In Kyrgyzstan, often compared to Switzerland, one should definitely swim in crystal healing waters of Issyk Kul and enjoy the starry sky above the mountain Lake Son Kul, advises Zamira.
If there were a chance to travel in time, she would like to go back to the time when her parents were young. As a child, she wanted to be a fashion designer. She is able and loves communicating with people. Of her own trips, she still remembers traveling to Georgia.
Zamira practices yoga, deems the birth of her son to be in the most significant date in her life and in people values most loyalty, the ability to listen and support in hard times.