Advantour Team: Bishkek Office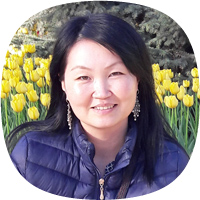 Zamira Imanalieva
Director
Zamira graduated from the Faculty of Tourism Management at Bishkek Humanitarian University and before joining Advantour in 2007 she had already acquired an immense working experience in the sphere of tourism. It is worth noting her experience with the international project Destination Marketing Organization whose purpose was to develop the field of tourism in Kyrgyzstan.
Zamira speaks Russian, Kyrgyz and English. Heading the Advantour office in Bishkek, she manages the company and the personnel very well, draws up tours, programs, counts tour calculations, corresponds with clients and keeps finance reports.
In Kyrgyzstan, often compared to Switzerland, one should definitely swim in crystal healing waters of Issyk Kul and enjoy the starry sky above the mountain Lake Son Kul, advises Zamira.
If there were a chance to travel in time, she would like to go back to the time when her parents were young. As a child, she wanted to be a fashion designer. She is able and loves communicating with people. Of her own trips, she still remembers traveling to Georgia.
Zamira practices yoga, deems the birth of her son to be in the most significant date in her life and in people values most loyalty, the ability to listen and support in hard times.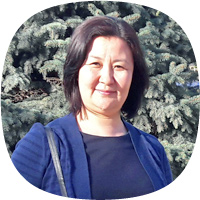 Aisulu Bukaeva
Senior Travel Consultant
Aysulu is an economist, graduated from the Kyrgyz State National University. She joined Advantour in 2012 with experience in tourism. She speaks Russian, Kyrgyz and English. She continues mastering her English in language courses. Aysulu has a wide spectrum of responsibilities. She is responsible for writing programs, sale of tours, hotel bookings, quality checks of tours, visa support and visa extension (dealing with the Ministry of Foreign Affairs).
There are many beautiful places in Kyrgyzstan and each of them is unique in its way says Aysulu. Even the most spoiled tourist would love a trip to Chon Kemin (150 km from Bishkek), a guest house 'Ashuu', thinks Aysulu. One can have a walk to the beautiful gorge Kalmak Ashuu and have a great opportunity to see local life and culture.
And one can watch a starry sky from the pasture of Son Kul, and when there is a clear sky with a good weather, it seems that one can reach stars and they are so many in there.
Aysulu likes baking. She would jump with a parachute but she is still fearful. She likes golden eagles; they are big birds with strong energy.
In people, Aysulu values sincerity and kindness.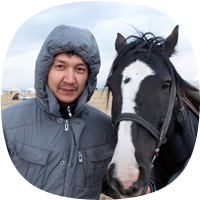 Marat Moldogaziev
Travel Consultant
Marat is a certified linguist, studied English. Before joining Advantour in 2012, he worked in the Hyatt Regency Hotel,Bishkek. He speaks Kyrgyz, Russian and English. He would like to learn Chinese or Arabic as he thinks they are very perspective languages. His previous working experience helps him in his current job as a tourism consultant. In the company, he is responsible for booking hotels and pensions at the Issyk Kul Lake. Marat is best at helping his family and friends in organizing holidays and trips. By the way, Marat is now reassured that the mobile connection works even at 3016m above sea level at Lake Son Kul; he tried it. Photos in Kyrgyzstan including a 'selfie' will be great anywhere – it's more important to capture the right moment.
Marat is considering to try parachuting or rafting down a mountain river himself. He loves cooking 'kuurdak' (fried meat with potatoes), plays mini-football with his friends that provides exercise and requires teamwork. He likes the berkut, a bird. In people, he values loyalty, faithfulness, sincerity, friendliness and cheerfulness.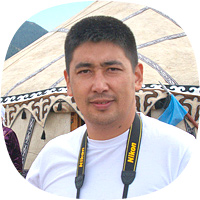 Azat Jumabekov
Travel Consultant
Azat studied business management and before joining Advantour in 2011, he already had experience working in advertising and travel agencies. His previous experiences help Azat in his work as a consultant manager for the territory of Issyk Kul.
He is sure, that any millionaire from overseas would be amazed with a trip to the ethnographic complex Supara only 3km from Bishkek. There in the nature, with fresh mountain air, you can try meat cooked on stones, try archery, fish for trout and ride a horse. It is no surprise that foreign guests compare Kyrgyzstan with Switzerland, and even the Swiss that travel here agree with the statement.
Azat advises to cook beans when hiking: easy, quick and not heavy. The most important is not to forget matches. Of course, Azat can make fire without them, but it's much easier with matches.
Azat loves Kyrgyzstan, Kyrgyz music and wants to live only in Kyrgyzstan, in the country with clean water and high mountains, hospitable and kind people. If Azat had a time machine, he would travel to Bishkek in 2050 to look at himself. Azat likes cooking meat and loves winter. He would gladly try parachuting or bungee-jumping somewhere high in the mountains.