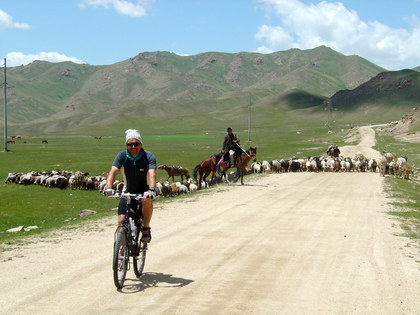 The tour is offered in summer.
Biking Tour to Song-Kul Lake is the perfect way to experience the drastic beauty and exhilarating extremes for which Kyrgyzstan is famous. Bike through the calming Jumgal Valley and rugged Tuz Ashu Pass in the Song-Kul Mountains, staying in yurts and family homestays as you go. Each day will also provide unique cultural opportunities, from mingling with semi-nomadic families to hiking, horseback riding, carpet weaving and touring historical sites in and near Bishkek.
Double/Twin room accommodation in hotels Bishkek, Kochkor;
Twin room accommodation in the family guesthouse in Kyzart village;
Four-people accommodation in the yurt;
Meal based on full board from breakfast in Day 1 to lunch in Day 6;
Mineral water during the tour (1 L per person a day);
English speaking tour guide from Day 1 to Day 6;
Transport for all transfers according the program One Minibus Mercedes sprinter;
Helmets.
Renting mountain bikes (possible for additional payment);
Early arrival night in Bishkek;
Single room accommodation;
Alcohol and soft drinks, deserts;
Horses for riding;
Dinner in day 6;
International flights;
PCR TEST if needed in Bishkek before departure.
Level of difficulty: This tour is recommended for beginners with simple mountain biking experience (biking time approximately 4-6 hours per day).
Conditions:
Equipment:
Down jacket, warm sweater, silk sleeping bag liner, rain gear (waterproof trousers should have an opening on the outside at the bottom of the leg in order to put on and take off without removing your trekking boots), 2-3 pairs of warm socks, waterproof trekking boots, gloves, sunglasses, sun cream with high UV-protection, lip balm with UV-protection, horse chaps and safety horse riding helmets.
Health:
If you have some specific sicknesses you need to bring own first aid kit with necessary medicaments.
Responsibilities of clients:
Your clients should recognize and accept the risk that circumstances may arise which would cause some activities to be shortened or eliminated altogether without reimbursement or refund. Such circumstance includes weather conditions, earthquakes and other acts of nature, injuries or other medical problems, which they may experience. However, you recognize and accept that none of the eventualities described above will give you a right to a refund or other forms of reimbursement.
NOTES:
The price is given based on 3 star's hotel accommodation in Bishkek. We can change it for hotels with higher level upon request for additional payment.
Please keep in mind that people in the countryside do not stick to time and can be late for 20-30 minutes. So it may not always be on time according to the itinerary, especially when local people cook and serve food or organize horses for riding.
People in Kyrgyzstan are very friendly and like to take pictures. But please do ask for permission if you take a picture of old people, mosques, churches, funerals etc or in countryside as people may be offended.
The same tour program can be organised for another date upon request or for individual groups with the same conditions and same price.