Soups, Russian cuisine
Varieties of Russian Soups
Soups in Russian cuisine have been at all times important. No other world's cuisine can boast such a diversity of first courses. Russian soups evolved from liquid hot dishes: zatirukha, zavarikha, boltushka, salomat and other flour-based pottages.
The kinds of Russian soups are as follows:
- Cold soups – tyurya, okroshka and botvinya.
- Light soups based on water and vegetables.
- Noodle soups (with meat and mushrooms)
- Shchi (cabbage soups) – the main type of Russian soups.
- Rassolnik and solyanka – thick soups on meat broth and salt-and-sour base.
- Ukha and kalya - two main varieties of fish soups.
The soups of other cultures also present in contemporary Russian cuisine. Ukrainian borshch, Belarusian svekolnik and soup with dumplings, Moldovan soups with chicken and vegetables, Asian soups with the lamb are only a few of them.
Shchi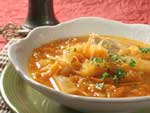 Shchi is a basic hot liquid dish on Russian table. The kind of shchi with a lot of ingredients were called "rich", others were referred to as "empty" since they were made with only boiled cabbage and onions. The classic shchi consists of six main components - cabbage, meat, roots, spices (onion, celery, garlic, dill, pepper, bay leaf) and sour seasoning (sour cream, apples, sauerkraut brine).
Solyanka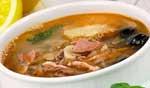 Solyanka is a spicy thick soup combining ingredients of shchi (cabbage, sour cream) and rassolnik (pickles, pickled cucumber brine), with significantly enhanced salt-and-sour basis of spices such as olives, capers, tomatoes, lemon, lemon juice, kvass, salted or pickled mushrooms.
Solyanka is of three types: meat, fish (with a set of different types of meats, poultry and fish) and ordinary (or mushroom).
Rassolnik
Rassolnik is a salt-and-sour liquid hot meal. In modern rassolnik cooks add pickles, potatoes and other root vegetables (carrots, turnips, rutabaga), cereals (buckwheat, fine-ground barley, pearl or rice), a large number of spice and spicy green vegetables (onion, leek, celery, parsley, parsnip, dill, tarragon, wild basil) and a little classic spices (bay leaf, black and sweet peppers). Rassolnik is based mainly on vriety meats. As most Russian soups, rassolnik is whitened with sour cream.
Noodle soup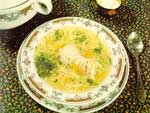 Noodle soup was borrowed by Russians from Tatars. Later it as adapted to be widely spread all over the country. There are basically three types of noodle soup: with chicken with mushrooms and with milk. All three are not hard to cook: first the noodle is prepared, then the broth is cooked and finally, the noodle is boiled in the broth. The noodle for all types is prepared according to same recipe. As rule wheat flour is used; sometimes a mixture of buckwheat and wheat.
Okroshka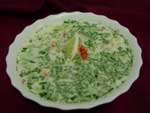 Okroshka is a cold soup with pre-boiled meat and vegetables. Old Russian cuisine advised to combine pork, turkey and grouse, i.e. tender pork, poultry and game. Later cooks started to use boiled beef with a little poultry or without it.