City walking tour -2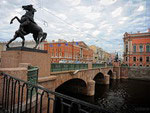 источник: tour-spb.ru
On this guided city tour you will be walking through the city center of St. Petersburg. During this excursion you'll get an excellent sight of the history, architecture and main landmarks of the city.
First, take a walk along Nevsky Prospect (the city's main street) to the Palace Square with its Triumphal Arch and the Winter Palace facing each other and the Alexander Column in the middle.
Cross the Bolshaya Neva by Dvortsovy (Palace) Bridge – to the St. Basil's Island Point with its Rostral Columns. This is an excellent opportunity for taking panoramic pictures of the city embankments.
Cross the Malaya Neva by Birzhevoy (Stock Exchange) Bridge;
Pass the Peter-and-Paul Fortress – the first construction of St. Petersburg. It said Peter the Great himself had laid the first stone.
Walk along Petrovskaya Embankment and pass the Summer Cottage of Peter I;
Then go towards the famous battle-ship "Aurora" (it signaled the start of the October revolution).
Go by Troitsky Bridge to the Summer Garden with its oldest royal stone palace and a superb collection of Italian statues and sculptures. The garden is surrounded by a magnificent cast iron fence.
Walk through the Field of Mars (with its eternal flame lit in the center of the monument to victims of wars);
Finally, return to the Palace Square.

| | | | | |
| --- | --- | --- | --- | --- |
| Quantity of the group | 1 | 2 | 4 | 6 |
| Price in USD for 3 h tour | 77 | 38 | 22 | 14 |