City walking tour -1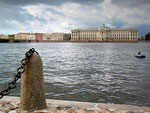 source: cityscan.ru
On this guided city tour you will be walking through the city center of St. Petersburg. During this excursion you'll get an excellent sight of the history, architecture and main landmarks of the city.
First, walk along Nevsky Prospect (main avenue of the city);
Cross the Anichkov Bridge famous for its four equestrian statues;
Walk along the Fontanka river embankment and have a short stop to see the statue of "Chizhik Pyzhik" and hear the story of this curious little bird.
Pass the Mikhailovsky (Engineering) Castle – a former residence of the Emperor Paul I;
Walk through Mikhailovsky garden towards The Church of the Saviour on the Spilt Blood (the monument of Russian Orthodox architecture built on the spot where the tsar Alexander II was assassinated);
Walk across Konushennaya Square, go along the Moika river embankment and all the way to the Palace Square with its Triumphal Arch and the Winter Palace facing each other and the Alexander Column in the middle.
Walk along Nevsky and see the Stroganov palace, Kazan Cathedral, Gostiny Dvor and other places of interest.
| | | | | |
| --- | --- | --- | --- | --- |
| Quantity of the group | 1 | 2 | 4 | 6 |
| Price in USD for 3 h tour | 77 | 38 | 21 | 13 |