Peterhof - Park & Peterhof's Monplaisir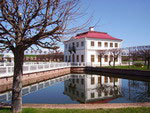 source: kemclub.ru
This guided tour shows you around this beautiful former tsar's summer residence.
You will see 300-acre park on the shore of the Finish Gulf, spectacular fountains, the Grand Palace, crowning the hill above the fountains and numerous smaller Palaces and pavilions representing "Russian Versailles" now.
You will enjoy the picturesque Lower Gardens with three unique cascades and dozens of powerful water jets. You will admire a breathtaking central composition of Peterhof - the Grand Palace and Grand Cascade, with its staircases, waterfalls, an avenue of 64 fountains and 37 gilded statues. And, of course, And, of course, you will have a guided tour of the Monplaisir Palace that is one of the most beautiful mini-palaces in Peterhof located right of the shore of the Gulf of Finland.

| | | | | |
| --- | --- | --- | --- | --- |
| Quantity of the group | 1 | 2 | 4 | 6 |
| Price in USD for 5 h tour | 212 | 122 | 97 | 76 |