The russian museum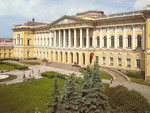 source: adlife.spb.ru
During this tour you will see the world's largest museum of Russian art and shows you its main rooms and departments.
Another temple of fine arts of St. Petersburg is known internationally, since it is as significant as the Hermitage both due to its importance and size. The Russian Museum is the largest and most comprehensive national collection of fine arts. The Russian Museum's collection contains about 400, 000 artifacts of representing historical periods and stages of development of Russian art from the 10th to the 20th century.
Today the museum occupies four palaces - Stroganov, Marble, St. Michael and Engineering Castle. St. Michael Palace remains the main museum building, which keeps the main exhibitions and collections. It belongs to the complex of beautiful structures of The Arts Square. The State Russian Museum is a real treasure house of national art. Paintings, drawings, sculptures, an extensive collection of prints, works of applied and folk art - all of them are on display in the museum halls. The pride of the museum is a rich collection of Russian art. The styles of middle and second half of the 19th century are represented in the paintings by Venetsianov and Fedotov, Savrasov and Levitan, Surikov, Perov, Repin and many others.

| | | | | |
| --- | --- | --- | --- | --- |
| Quantity of the group | 1 | 2 | 4 | 6 |
| Price in USD for 4 h tour | 149 | 80 | 61 | 45 |