Peterhof, Saint-Petersburg Suburbs
Peterhof (Petrodvorets)
About Peterhof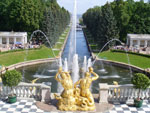 source: vpiter.com
The brilliant Peterhof, the capital of crystal fountains and emerald parks, is a must for all tourists visiting St. Petersburg.
The face of Peter's capital would be incomplete without the cheerful Peterhof landscape with its green gardens, exquisite golden sculptures, and extravaganza of numerous water fountains. The beauty of Peterhof is hard to express in words. This place is the embodiment of holidays. Welcome to Peterhof!
Peterhof is the ceremonial residence of Peter I, which have grown the size of a little town. Today it is widely known and the world's largest palace and park complex. It is located 30 km from Saint Petersburg. Peterhof includes palaces, cascades, regular parks - each one is a masterpiece of architecture and garden art. The palaces are the best examples of the architecture of Peter the Great's era. The parks of Peterhof are the green kingdom with walls of lush vegetation of bushes and the carpet of emerald grass in the middle which stand white bridges and vases, majestic bronze sculptures. But the main attraction there is the variety of fountains; there are over 150 of them. Each of them is original and unique. Peterhof's history began in 1709 when the construction of the first palaces, Monplaisir, Marly and the Hermitage started. And after the brilliant victory over the Swedish fleet in 1714, Peter decided to turn Peterhof into the magnificent symbol of victorious Russian Navy. The works continued for two centuries. In 1723 Peterhof was opened with the ready palaces Monplaisir and Marly as well as a part of the fountains. Peter reached his goal: in splendor and richness of decoration Petergof surpassed its prototype, French Versailles, and became the most glorious palace in Europe. Magnificent parks, numerous fountains, gilded and marble statues, and magnificent decorations of the palaces of Peterhof – everything was to demonstrate the richness and glory of Russia. After World War II Peterhof suffered badly: the palaces were destroyed and looted, magnificent fountain sculptures stolen, the gardens and orchards torn down. But the city managed to preserve the wonderful creation of Peter the Great. Peterhof was restored and now is shining brighter than before.
In 2005 Peterhof celebrated its 300th anniversary. The global value of Peterhof was confirmed by entering it into UNESCO World Heritage List.
Attractions of Peterhof:
Palaces of Peterhof
Cascades of Peterhof
Fountains of Peterhof