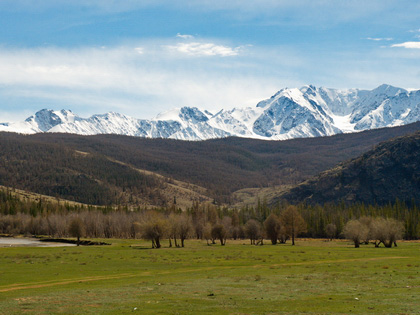 Group size: min. 2 people. No age limit. Children under 12 years must be accompanied by adults.
Maralnik is a mountain rose, or Ledum, or Altai cherry tree, Rhododendron Ledeburii - the plant has many names. It is a symbol of the coming spring. When sakura blossoms in Japan, the slopes of the Altai mountains are covered with lilac carpet of a mountain rhododendron. Fotostops are planned exactly in those places where this miracle of nature is best presented, so that photographers have an excellent opportunity to take unique photographs of blooming mountains. In the autumn the water of the mountain river Katun becomes unusually turquoise in color with golden mountains on the background. Greenish sandstone and clear water without impurities and sediment with mainly spring feed causes this unique phenomenon).
Note:
The Agency reserves the right to change the schedule with no changes in the volume of service provided. The duration of individual elements of tour program may change on the eve of departure and during the course of the tour. In case of the bad weather and climate conditions and due to circumstances beyond the control of the organizer (road, local administration services, etc.), the elements of the tour program can be excluded, based on the actual situation on the route.
Attention! In case the tourist is being late or does not appear at a scheduled time and a place for the group gathering, the Agency is not responsible for the full implementation of the schedule and no costs of this tour day are refunded. Attention! When visiting active monasteries and temples, women should avoid wearing trousers and shorts. A headdress is required.
Recommended clothing: A set of outfits for leisure and travel, a windproof and waterproof jacket, a warm sweater, two pairs of comfortable shoes, lightweight slippers for hotels, sun protection (cream, glasses, headdress), personal hygiene items.
Important information:
Attention! There may be ticks and snakes in those areas where the tour will be carried out. So we strongly recommend to observe safety measures and to ensure anti-tick protection. We recommend you to have tickicide repellents (creams, sprays), however there were no incidents of tourists catch tick-borne encephalitis in the last years in our company.
Accommodation:
| | |
| --- | --- |
| City | Hotels |
| Soloneshensky rajon | Enclosure for marals "Iskra" (shared facilities on each floor) |
| Ulagansky rajon | Tourist complex "Kochevnik" (en suit) |
| Ongudaisky rajon | Tourist complex "Uch-Enmek" (shared facilities on each floor) |
Transport services from Barnaul during the whole tour on a comfortable bus;
Accommodation in DBL/TRPL room: standard room with private facilities (shower, WC);
Food - breakfasts and dinners;
Rental of equipment;
Excursions according to the programme;
Insurance;
Guide.
Museum entrance tickets (150-350 rub/person);
Recreation fee (100-150 rub/person);
Russian sauna (from 500 rub/hour);
Additional food (lunches);
Additional excursions (from 500 rub/person);
Private expenses.