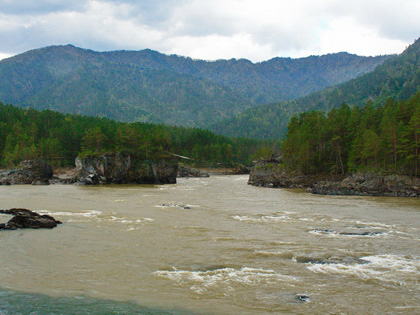 Group size: min. 2 people
Altai Rafting Group Tour is packed with aquatic adventures on the rivers, lakes and waterfalls of Russia's gorgeous Altai Mountains. In between rafting excursions on the Katun River you will have opportunities for fishing, therapeutic thermal baths, camping, cave exploration and even a visit to Kyzyl-Chin red cliffs, better known as Mars for their extraterrestrial terrain. Tours of museums, a fortress, petroglyphs and ethnographic complexes add cultural depth to the Altai Rafting Group Tour, which is perfect for curious travelers.
Accommodation:
| | |
| --- | --- |
| City | Hotels |
| Soloneshensky district | Enclosure for marals «Iskra», enclosure for marals «Lesnaya Skazka» |
| Ongudaysky district | Tourist complex «Uch-Enmek» |
| Lower Katun area | Yurt camping «Altayskoe Kochevye», «Manzherok», complex «Altai-rest», hotel «Solnechnaya» |
Attention! Twin beds are not guaranteed. Triple occupancy – by request.
Transport services from Barnaul during the whole tour on a comfortable bus;
Accommodation in DBL room in hotels and tourist complexes: standard room with private facilities (shower, WC), in the highlands – rooms with shared facilities on each floor, H/B;
Excursions according to the program;
Insurance;
Guide.
Entrance tickets (150 – 400 RUR/person);
Recreation fee (100 RUR/person);
Russian sauna (from 500 RUR/hour);
Additional food (lunch);
Additional excursions (from 500 RUR/person);
Private expenses.
Note: The Company reserves the right to change the schedule without changing the scope of services provided.
The duration of the individual elements of tour program may change on the eve of departure and during the course of the tour. Elements of the tour program that depend on weather and climatic conditions and actions of services and organizations (road, local administration, etc.), which are beyond the control of the organizer, can be excluded from the program, based on the real situation on the route.
Attention! In case tourists are late or fail to show up at the meeting place of the group at the scheduled time, the Company is not responsible for the full implementation of the program and the cost of this excursion day will not be refunded. Recommended flights on the Moscow – Barnaul route: S7 (S72601) – estimated arrival time – 06:55, Pobeda (DP-6531) – estimated arrival time 05:00.
When visiting active monasteries and temples, women should avoid wearing trousers and shorts. A headdress is required.
Pensioners, beneficiaries! Do not forget your pension certificate and other proof of your benefits!
In order to strengthen the control of measures to prevent the spread of a new coronavirus infection (COVID – 19) and its prevention at crowded tourist sites, it is necessary to have personal respiratory protection with you. Moreover, be aware that some of the objects in the Altai region suspend the admission of visitors until a certain order.
Recommended clothing: waterproof jacket; windbreaker or raincoat; two trousers – tight and light; a jacket made of thick fleece or a warm woolen sweater; light sweater or jacket; shorts; cotton t-shirts; headdress; sunglasses and cream; thermal underwear; hiking shoes – hiking boots or sneakers made of thick material; light shoes – sneakers or sandals; rafting shoes – light sneakers or neoprene slippers; socks; swimsuit; slippers for bath and home; personal hygiene items and a first aid kit.
Important information:
Despite the fact that in recent years there have been NO cases of tick – borne encephalitis among tourists, the Altai region is an area where ticks and snakes are found. Please observe safety measures and anti – tick protection and have tickicide repellents (ointments, gels) with you.