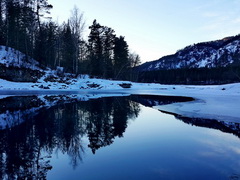 Group size: min. 2 persons. No age restriction. Children under 18 should be accompanied by adults.
The beginning of our winter tours coincides with the opening of the winter season in Altai and the Altai winter festival. You will become part of the big festival of the beginning of winter in Altai by joining the tour group at the beginning of December.
A special highlight of our winter tours is the visit to non-freezing lakes, where white swans and many other waterfowl fly to winter. Hundreds of snow-white swans are reflected in the clear water of the lakes against the backdrop of the majestic Altai mountains.
During our winter tours, we will not only meet winter in Altai, but also see it off. At the beginning of March, a grand and Altai-style wide festival "Siberian Maslenitsa" is held. Endless snowy expanses, Russian folk dances and rituals, pancakes for every taste and color, many performances - all this awaits the participants of the March group of winter tours to Altai.
Notes:
The Agency reserves the right to change the schedule with no changes in the volume of service provided. The duration of individual elements of tour program may change on the eve of departure and during the course of the tour. In case of the bad weather and climate conditions and due to circumstances beyond the control of the organizer (road, local administration services, etc.), the elements of the tour program can be excluded, based on the actual situation on the route.
Attention! In case the tourist is being late or does not appear at a scheduled time and a place for the group gathering, the Agency is not responsible for the full implementation of the schedule and no costs of this tour day are refunded. Attention! When visiting active monasteries and temples, women should avoid wearing trousers and shorts. A headdress is required.
Recommended clothing: A set of outfits for leisure and travel, a windproof and waterproof jacket, a warm sweater, two pairs of comfortable shoes, lightweight slippers for hotels, sun protection (cream, glasses, headdress), personal hygiene items.
Accommodation:
| | |
| --- | --- |
| City | Hotels |
| Nijnyaa Katun (Lower Katun) | Hotel «Solnechnaya», «Park hotel Aya», «Manzherok» |
| Teletskoe Lake | Tourist complex «Istok», «Gornoye ozero», hotel «Artybash» |
| Belokurikha | «Neo», «Orion», «Blagodat» |
Transport services from Barnaul during the whole tour on a comfortable bus;
Accommodation in DBL/TRPL room: standard room with private facilities (shower, WC), in the highlands – rooms with shared facilities on each floor;
HB;
Excursions according to the program;
Insurance;
Guide;
Translations.
Belokurikha fee 50 rub./person per night;
Entrance fees to the museums (150-400 rub./person);
Recreational fee (100 rub. person);
Chair lifts (450-500 rub./person);
Visit to aqua center (1000 rub./person);
Visit to russian sauna (starting 500 rub./hour);
Additional food (lunch);
Additional excursions (from 10$/person);
Private expenses.