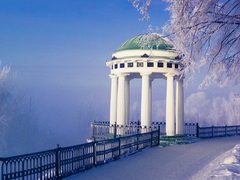 One day tour in Yaroslavl: Yaroslavl - one of the most ancient cultural centers in Russia: historical center of the city, the "Carabikha" memorial estate after Nikolay Nekrasov , Bolkonskiy house, Volkov Theatre.
Tour itinerary:
The guide and driver will pick you up at your hotel and bring you back. All the Russian architectural styles (from the 16th until the 20th century) are presented in Yaroslavl, which contains 140 memorial estates, inscribed in the list of the World Heritage of UNESCO.
You will walk through historic Yaroslavl and visit the Carabikha Nekrasov's memorial estate.
The "Carabikha" memorial estate after Nikolay Nekrasov is situated in the city's outskirts, where a festival of poetry takes place annually.
The action of "War and Peace" by Leo Tolstoy is also connected with Yaroslavl, where one can still see the Volkonsky estate on the Volzhskaya embankment.
Yaroslavl is the homeland of the Volkov Theatre (the oldest theatre in Russia), which was founded in 1750. Such famous Russian actors as Stanislavsky, Strepetov, Schepkin, Mosvin, Ermolaev and Kachalov performed here.
In the city there are the State Puppet Theatre, the State Young Theatre, the Yaroslavl Chamber Theatre, the Strannik Theater-Studio and the Yaroslavl Philharmonic Society, a Circus, a planetarium, a Zoo, numerous parks of Culture and Leisure ("the park after the 30th anniversary of the Victory", the Petropavlovsky park, the Tveritsky-bor park) and the Damansky entertainment island. Visit a theatre or park (of your choice).
The Jazz-nad-Volgoy Festival has taken place here once every two years, since 1981. Both the Preobrazhenie International Music and Chime Festival and the Volkov International Theatre Festival take place in Yaroslavl annually.