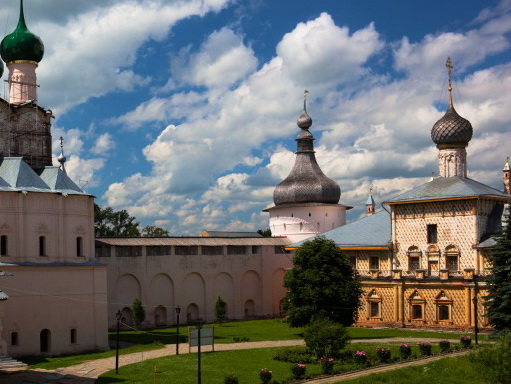 Tour itinerary:
The guide and driver will pick you up at your hotel and bring you back.
During this city tour you will visit the Spaso-Yakovlevsky Monastery (as the Monastery is acting, women should to tie a scarf around their heads and to wear a skirt, according to the Russian Orthodox tradition).
Visit the Rostov Kremlin State Museum, founded in 1883 as the Museum of Church Antiquities. There are 92 thousand items in the Museum's stock
You will see the Zvonitsa bell tower of the Blessed Virgin Cathedral, built in 1682.
The Zvonitsa preserved the set of all 15 ancient bells, each of them has its own key sound.
Visit the Rostov Finift exhibition, where you can find all magnificent works "fiery painting" art.
The Finift (the Rostov enamel) was appeared as a commercial activity in Rostov at the end of 18th century. The only Finift manufacture in Russia was found in the town of Rostov. It produces decorated jewelry and caskets, similar to the production of the past. Visit the Ancient Russian Art exhibition.
Sail the Nero Lake by motor boat. The Lake is unique due to the presence of natural antibiotics, biostimulants and vitamins (D, B1 and B2). These items have been actively used in agriculture.
Then you will enjoy a picnic with a folklore show on Christmas Island.
Transfer back.