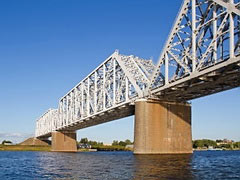 Tour itinerary:
The guide and driver will pick you up at your hotel and bring you back. You will walk along the city's embankment and get acquainted with historic Yaroslavl, inscribed by UNESCO in the list of world heritage, as a unique model of the Golden Age in Russian architecture.
Visit the Spaso-Preobrazhensky monastery.
The Spaso-Preobrazhensky Cathedral is the most ancient building of Yaroslavl, with a history that goes back to the 12th century. The Cathedral's facade is decorated in old-Russian style with West-European elements. The "Holy Gates" Tower (from the 16th century) decorated with the scenes of the Apocalypse.
There was a book depository in the monastery with a large collection of Russian and Greek manuscripts. A pearl of European medieval literature, "the Tale of Igor's Campaign", was found here after the ages of oblivion. The national treasury was located here during "the Time of Troubles" (i.e. period of interregnum, political crisis and Polish occupation of Moscow in the beginning of 17th century). In the year of 1612, the Spaso-Preobrazhensky monastery became the headquarters of the Minin and Pazharsky's volunteer combat corps (formed in order to free Moscow).
Visit the Kazansky Monastery of the 16th century.
It was reduced to ashes by the Poles during the siege of Yaroslavl, but the rest of city was saved, due to the intercession of the Blessed Virgin Mary (according to the local legend), that's why the Yaroslavl icon of the Blessed Virgin Mary is considered as the main city's relic. The monastery was completely restored in 1610.
Visit the Church of Elijah the Prophet
It was built in the mid 17th century (building was financed by the Skripins brothers). In Yaroslavl there are a diversity of statues and monuments such as the monument to the Grand Duke Yaroslav the Wise (the city's founder), the Demidovsky Pillar (after Pavel Demidov, a public figure, the founder of the Yaroslavl Demidov School of Higher Sciences), the monument to Fyodor Volkov (an actor and the founder of the first permanent theater in Russia), the monument to Nikolay Nekrasov (famous poet and writer), the monument to the Victims of 1918 Insurrection (the revolt by White Guardsmen vs. the Soviet regime) amongst others.
The Tolgsky Monastery was founded in 1314. The architectural complex, preserved till the present days, was finally complited in the late 17th century, when massive walls with towers, the Vedensky Cathedral and bell tower were built. The name "Tolgsksy" goes back to the Tolga River, which has dried up in our days.
Visit the monument to the Yaroslavl's millennium anniversary, placed next to the confluence of Volga and Cotorosl rivers.
Visit a museum (of your choice).