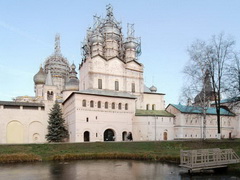 Tour itinerary:
The guide and driver will pick you up at your hotel and bring you back.
Visit the Spaso-Yakovlevsky Monastery. Visit the Museum of Rostov Finift (the Rostov enamel) Items and its "the coachmen hand bells and jingles exhibition". Such hand bells and jingles were the indispensable element of the Troika (Russian horse driving), which have been the symbol of Russia over the ages.
The Rostov Kremlin State Museum has one of the largest collections of the finift in all Russia, and includes 2,500 Finift miniatures from 18th to 20th centuries.
"The art of fiery painting" is known in Rostov since 17th century. Visit the shop of the unique Rostov chornoloschennaya ceramics (the unique Rostov type of ceramics).
Visit the Museum of chernoloschenaya ceramics. The craft of making of the loam dishware appeared in this region about 2000 B.C. and pottery from the 10th century A.D.The Rostov chernoloschenaya ceramics is considered as one of the most spectacular types of ceramics. The surface is preliminary dried and then is polished by a special tool, before the firing in a kiln. Thus, a funny tracery appears on the ceramics. The firing takes place in the fire smoky. As a result, the surface gains a silver or black gloss (the colour depends on a kind of the firewood).
Transfer to the town of Uglich (95 km). Uglich was founded in 937. In our days, in this medieval town is a river port. The Uglich guided tour with visit the Holy Resurrection and St Alexy Monasteries as well as the Uglich Kremlin.
The St Prince Alexy Church "on spilt blood", is in the North-East part of the Kremlin fortress (built in 1692 on the place of Prince's murder). The Spaso-Preobrazhensky Cathedral is the main landmark of the Kremlin, built in 1713.
The multitiered bell tower (37 m high) is located next to the Cathedral, built in 1730 in the "Naryshkino baroque" style.
Sail down the Volga River. Transfer back.