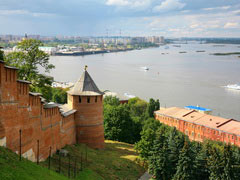 Tour itinerary:
The guide and driver will pick you up at your hotel and bring you back.
During this guided tour you will visit the Nizhniy Novgorod Kremlin.
The Kremlin of Nizniy Novgorod is both a fortress and the historic center of the city. It was built during 1508 and 1515 by Prince Yuri Konstantinovich, who laid its foundation stone himself. An Italian architect Francesco Pietro was sent from Moscow for the construction of the fortress.
The Kremlin withstood many sieges, and after Moscow's victory over the khanate of Kazan it became the main administrative center of a new province.
The remains of Michel Archangel Cathedral (XVI century) are still in Nizniy Novgorod.
In 17-th century, the Festival Square was created in the fortress' bailey. Later the Palace of the vice-governor, garrison office and Town hall were placed there. Today, the Art Museum is located in the former Military Governor's Mansion.
The length of the wall is 2080 m and their thickness is 4.5 m. Twelve, of the original thirty towers, still remain (with height from 30 to 80 m). The total area of the fortress is 22.7 hectares.
You will visit a souvenir shop and get the chance to either visit the theatre or to sail down the Volga River.
Transfer back.